Description
PATCHES
This download includes patches for Helix, HX Stomp, and POD Go. Please make sure to import the appropriate patch for your hardware – they are not interchangeable.
67 VibLux TM WTs – This patch uses the IR's and is meant for guitars with single coils.
67 VibLux TM WTh – This patch uses the IR's and is meant for guitars with humbuckers.
NOTE: The HX Stomp and POD Go folders include 'FX" patches. These patches include the additional effects blocks from the full Helix patch.
OUR VINTAGE '67 FENDER VIBROLUX, NOW IN YOUR LINE 6 HARDWARE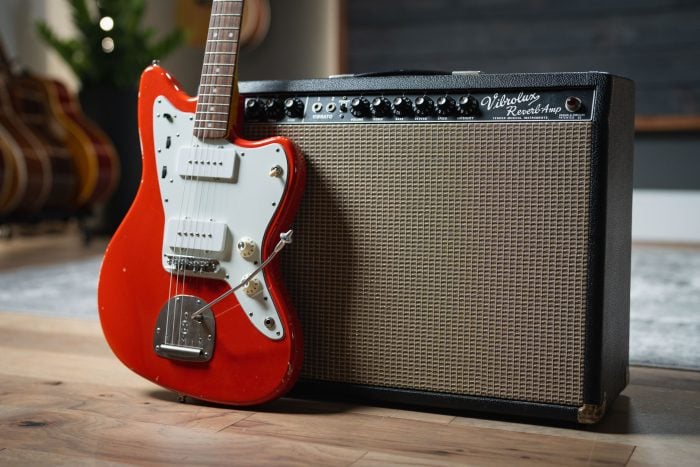 For these patches, we tone-matched the stock HX amp models to our1967 Fender Vibrolux amplifier. The result is a set of Impulse Responses that completely transform the HX amp models, making the Line 6 hardware sound exactly like our amp, and the microphones, preamps, and EQ chains that we use to record it.
The Vibrolux is an iconic amplifier in Fender's history. Ours is a 'black panel' Vibrolux from 1967. It's a 2×10 combo with vintage Oxford speakers. At 40 watts, the Vibrolux excels at glassy Fender cleans, but it sounds fantastic turned up and overdriven. To our ears, the Vibrolux has more mids than a Deluxe, and it sounds especially good when overdriven. It stays tight and refined when pushed, either by turning the amp up or when using drive pedals.
SIGNAL FLOW AND EFFECTS
Input
Compressor
Drives: KOT, 808, Fuzz
Volume – mapped to EXP 2
Tremolo
Chorus
Delays: 1/8 delay, Dotted 8th delay, Dual stereo delay
Reverbs: Hall (subtle), Dynamic Hall (huge)
Amps
IR (Tone Match)
EQ
Solo Boost
Output
The HX Stomp and POD Go patches cannot fit all the effects into a single patch. For those platforms, we include the amp and essential effects in the main patches, and then we include the additional effects blocks in the 'FX' patches. Feel free to mix and match the additional 'FX' blocks into the main patches to suite your needs.
SNAPSHOTS
Snapshot 1: CLEAN. Base clean tone
Snapshot 2: DRIVE. Stage 1 drive tone
Snapshot 3: DRIVE+. Big rhythm tone
Snapshot 4: P&W LEAD. Lead tone with lots of delay and verb
Snapshot 5: AMBI CLEAN. Clean tone with lots of delay and verb
Snapshot 6: CLEAN TREM. Clean tone with tremolo
Snapshot 7: FUZZ LEAD. Fuzz with delay
Snapshot 8: SWELLS. Big ambient swells tone
POD Go:
Snapshot 1: CLEAN. Base clean tone
Snapshot 2: DRIVE. Stage 1 drive tone
Snapshot 3: P&W LEAD. Lead tone with lots of delay and verb
Snapshot 4: AMBIENT. Ambient clean tone
NOTE: The HX Stomp patches do not include Snapshots
CHANGELOG
Initial Release (1.0): 2022-10-04