Description
INCUDED PRESETS
This download includes patches for Axe-FX III, FM3, and FM9. Please make sure to import the appropriate patch for your hardware – they are not interchangeable.
EDG DLX TM WT (SC)– this preset is voiced for single coils and low-output humbuckers
EDG DLX TM WT (HB) – this preset is voiced for more traditional humbuckers
NOTE: The FM3 folder includes an 'FX" patch. This patch includes the additional effects blocks from the full Axe-FX and FM9 patches. Feel free to substitute any of these effects blocks into the main patch to suite your needs.
OUR FENDER THE EDGE DELUXE — NOW IN YOUR FRACTAL HARDWARE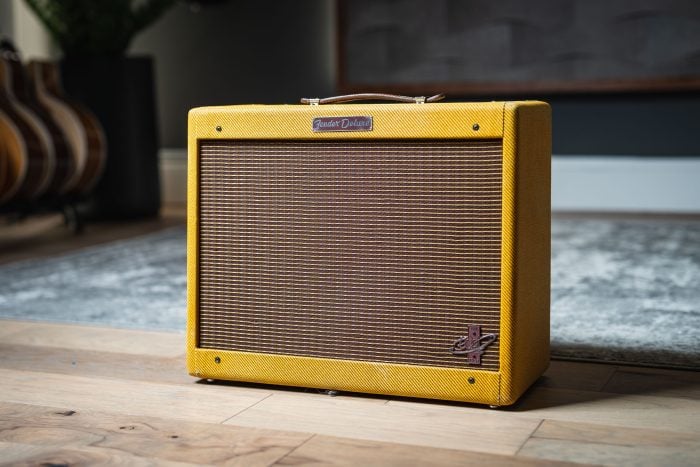 For these patches, we tone-matched a stock Fractal amp models to our Fender 'The Edge' Deluxe. The result is a Tone Match user cab that completely transforms the amp model, making the Fractal hardware sound exactly like our amp, and the microphones, preamps, and EQ chains that we use to record it.
The 'Edge' Deluxe from Fender is a signature amp for The Edge from U2. While Edge is known for playing an AC30, a vintage 5E3 Deluxe has always been part of his secret tone recipe. The signature Edge 5e3 Deluxe features a few tweaks to the hand-wired circuit as well as a Celestion Alnico Blue speaker. The result is the familiar 5e3 Deluxe tone but with a bit more headroom and chime. If you love vintage Fender tone, you'll love The Edge's take on the Deluxe.
The cabinet is loaded with a Celestion Alnico Blue. We've tone-matched the mic'd cabinet with a Royer 121 and Earthworks SR25 through a stereo Neve 1073 preamp.
SIGNAL FLOW AND EFFECTS
Compressor
Pitch (POG)
Drives: SDD Preamp, 808, Fuzz, and more
Volume
Amp, User cab
Tremolo
Chorus
Delays: 1/8 delay, Dotted 8th delay, Dual stereo delay
Reverbs: Subtle and Huge
The FM3 presets cannot fit all the effects into a single patch. For that platform, we include the amp and essential effects in the main presets, and then we include the additional effects blocks in the 'FX' preset. Feel free to mix and match the additional 'FX' blocks into the main patches to suite your needs.
BLOCK CHANNELS
For each effect block, we set up all four channels to give you as many options as possible for each individual effect types. For example, in the Compressor block, there are four different types of compression. For drives, we use all available channels in each drive block to get different overdrive flavors. Please experiment with the channels in all the different blocks to find your favorites. Typically we use our favorites in Channel A.
The exceptions to this are usually the amp and cab blocks – for those we usually only set up Channel A.
CONTROL SWITCH 1 (CS1)
Control Switch 1 (CS1) is set to change amp gain settings. This essentially gives you another drive – pure amp overdrive.
In order to adjust these settings, on the amp block, right-click on 'Input Drive'. Adjust the 'Min' and 'Max' values to set your desired amount of drive for when the button is off (Min) or on (Max).
We've mapped it to a button labeled 'Amp Gain' on the FC controllers. See the 'Per-Preset Mapping and Overrides' for more info.
You can control which scenes have the Amp Gain button on using the 'SC Per Scene' tab in the 'Controllers' menu.
SCENES
SCENE 1: CLEAN-ISH. Base clean tone
SCENE 2: DRIVE. Stage 1 drive tone
SCENE 3: DRIVE+. Big rhythm tone
SCENE 4: P&W LEAD. Lead tone with lots of delay and verb
SCENE 5: AMBIENT. Clean tone with lots of delay and verb
SCENE 6: CLEAN CHORUS. Clean tone with chorus
SCENE 7: CLEAN TREM. Like Snapshot 4 but with POG
SCENE 8: ROCK LEAD. Solo tone with fewer reverb and delay effects
In the output block under the 'Scene Levels' tab, we've adjusted the output level for various scenes. Adjust these to suite your needs.