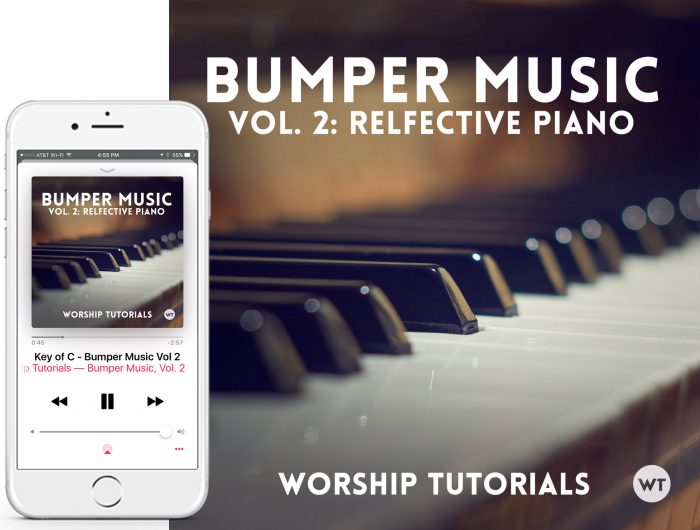 BUMPER MUSIC
Audio tracks you can play underneath any element of your worship services
Bumper Music is perfect for times like announcements, offering, communion, prayer, etc. Available in a variety of styles to suite your church culture, and every set comes in all 12 keys, which allows you to create seamless transitions from other musical elements of your service.
| Image | Name | Preview | Description | Price | Buy |
| --- | --- | --- | --- | --- | --- |
FAQs about Bumper Music
How can I use it?
You will be able to use bumper music without restriction in your worship services – no need to display copyright information. You are free to use it any way you'd like in a live environment as well as streaming (if you stream your service to multiple campuses or an online service. You may not use it to create content that will be sold (as backing music for videos, audio, etc). If you would like to use Bumper Music to create content that will be widely distributed (YouTube, Vimeo, etc), please contact us first.
What will I get?
You will get a .zip package containing 12 mp3's – one mp3 for each key (more on this later). MP3 files are playable in a huge variety of hardware and software – it will easily integrate into your existing workflow.
How do I use it in my services?
Bumper Music is simply an mp3 file, so you can use it however you want as most audio apps can support mp3 playback.
We love to use Bumper Music inside of ProPresenter. Here is a video showing how to do that.
You can also use it from your phone with any mobile app that supports mp3's. Here is how to use it in the WT Director iOS app.These videos show how to do it with Pads, but the process is exactly the same.
Can I download Bumper Music directly to my phone or mobile device?
No – unfortunately Apple does not support this. But getting Bumper Music on your phone is simple – just download and extract the .zip file after purchasing, and then add the files to iTunes and sync to your phone. Here's a video showing how to do that. The video shows how to do it with Pads, but the process is exactly the same.
How long is the track?
About three minutes long. We feel this is the perfect length for announcements and other spoken elements in a worship service. If your announcements last more than 3 and a half minutes, it may be time to trim them down :). But Bumper Music is easily loop-able.
Why all 12 keys?
We made Bumper Music in every key because we needed it in our services. We feel this is essential, and this sets up apart from other backing track providers. When crafting an excellent worship service, being able to match the key from one element to the next is essential. This lets you have bumper music during announcements in the key of D that flow right into the next song in the key of D.
Will we make different styles?
Yes. Volume one is a high energy pop style track that we feel works perfectly in a modern contemporary worship context, but we will create more volumes in different styles in the future. Let us know what style Bumper Music you'd like in the comments below!
More questions about Bumper Music?
Ask in the comments below and we'll let you know!
How you can use Bumper Music and Pads in your services to create awesome transitions