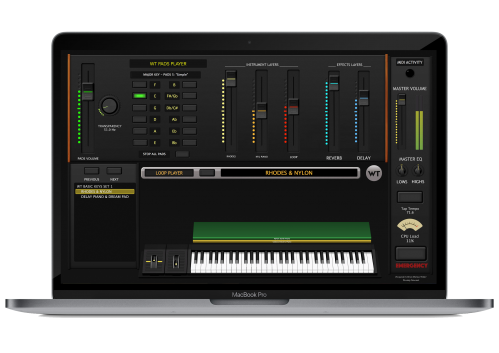 MainStage
PADS Player Patches
The BEST way to play Worship Tutorials Pads in your church
PADS by Worship Tutorials, now in MainStage
Tens of thousands of churches use Worship Tutorials Pads to effortlessly transform their worship sets by creating depth and texture, ambience, and awesome transitions. Now you can have our award winning Pads inside of your MainStage rig.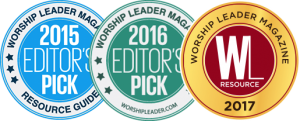 Best of the Best
Worship Tutorials Pads were selected as this year's Editor's Pick in Worship Leader Magazine's 'Best Resource Guide' issue (for the third year in a row).
We are honored to be chosen, and we think our Pads are the best you can buy 🙂
Previews
(you can click on each individual Pads set to hear samples of each set in all 12 keys)
Pads come in seven different varieties for major keys and two varieties for minor keys. Preview them all and in the audio player to hear what we feel makes them each unique. Each Pads set contains 20 minute Pads files for all 12 keys.
The same Pads sounds you love, now in MainStage
Our MainStage Pads Player patches aren't software patches that you play with a keyboard. They are the exact same Pads samples available from our Flagship Pads line that you know and love. We've simply optimized the files to play inside of MainStage.
This allows you or your keys player to play any instrument patch you'd like within MainStage while playing the Pads as well with control over the volume level and transparency of the Pads (more on that in a bit).
Main Features:
The exact same Pads sounds you know and love, built right into MainStage.
All 12 keys. Each of the Pads Player MainStage patches contains Pads in all 12 keys – just like the regular Pads products.
Crossfading. When you change Pads, they crossfade automatically. Turn them off and they fade out. All done under the hood in MainStage.
Pads sounds are included with the patch – you do not need to purchase the Pads mp3 files separately.
Transparency Knob: Turn the knob up and the Pads take up less sonic space. Turn it down and they get bigger.
Two great instruments built in. You can use any instrument patch you want with our Pads Player patch, but we've included two great sounding instruments for you to get you started.
Separate volume control for Pads and each instrument layer.
Delay and Reverb control for each instrument.
The perfect way to play Pads
Our MainStage Pads Player patches are the ideal way to play Pads if you use MainStage. These patches allow you to integrate our award-winning Pads sounds into your existing workflow, and they solve the three most common obstacles churches face when playing back Pads
PROBLEM #1: HOW TO TRIGGER PADS
The MainStage Pads Player patches allow you to trigger Pads with the push of a button (or a key on a keyboard depending on how you map the patch). It just becomes part of your keys player's setup and workflow. And it puts control in the hands of musicians. You can use an iOS device or app to trigger Pads, or you can implement them into your presentation software, but all these solutions have potential limitations. MainStage overcomes all these limitations.
PROBLEM #2: HOW TO SWITCH KEYS SMOOTHLY (AND CROSS-FADE)
With our MainStage Pads Player patches, anytime you trigger a new Pad, the Pad that is currently playing fades out while the new one fades in. This is all handled within MainStage itself, and it works seamlessly. You can easily switch keys smoothly between songs, or even within a song to facilitate a key change. When you stop the Pads, they fade out as well.
PROBLEM #3: SOMETIMES PADS CAN BE A BIT TOO MUCH
We've noticed (and we've heard from you), that sometimes the Pads can take up a bit too much space. You can always just turn them down, but this does not really solve the problem of EQ space.
We've added a knob called 'TRANSPARENCY'. As you turn this knob up, the Pads take up less pace. It's extremely effective if you want to remove some weight from the Pads and have them take up a smaller sonic footprint. Then, when you want the Pads to sound bigger, just turn the knob back down.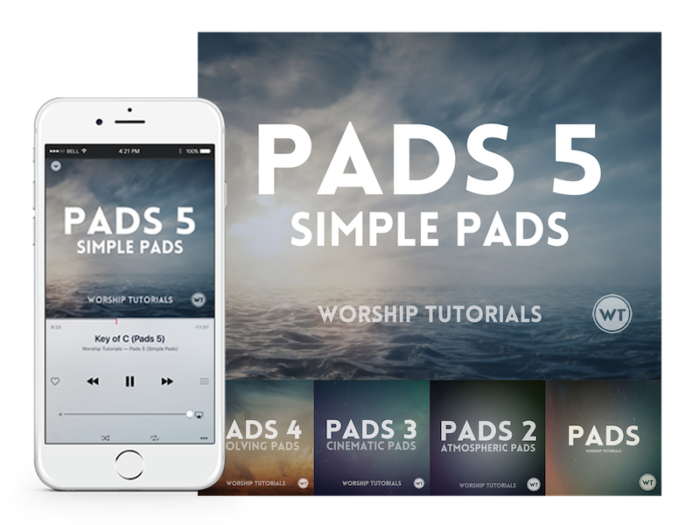 What makes each volume of Pads different?
Each set of Pads effectively works exactly the same way (with the exception of the Minor Pads, which are in Minor keys). The difference is simply in how they sound. We love having options, and we think you will too. We don't really think of one set of Pads sounding better or worse than the other, just different. Here's how you could think of them:
Pads 7 (Guitar Pads):

 Most Pads are synth-based, but the are made almost entirely of guitar swells. With a unique texture and tone, these Pads will give you another tonal flavor, and they sound awesome.

Pads 6 (Shimmer Pads):

Shimmer is an iconic sound used all over modern worship music. Now you can have it in your sets with the click of a button.

Pads 5 (Simple Pads): We wanted a set of Pads that would sound warm and rich but have a little bit less going on. There is less movement both in the number of notes and the EQ spectrum. We think these are the best set of Pads yet, especially when used in a band context.
Pads 4 (Evolving Pads): Pads 4 have more movement than the other Pads sets, but they will not get in the way of what you are playing on top of them. We like to use these when we want the Pads sound to have a bit more signature. We named them 'Evolving' because when you hear them, they sound like they are moving from one place to another. Pads 4 also include a lot of interesting ambient elements not found in the other pads sets.
Pads 3 (Cinematic Pads): Think movie score. Take it a step further. Think John Williams and Hans Zimmer are now on your worship team. That pretty much sums up Pads 3. They sound huge, and we love them.
Pads 2 (Atmospheric Pads): We named them 'Atmospheric' for a reason – lots of texture and ambience. These will really add some life to sets where you don't have a lot of musicians, and they're great when used by themselves during different elements of a worship service.
Pads 1: Lots of warmth without too much movement or texture. These are great all-around ambient pads that you can use in a variety of environments. We still love the original Pads and we use them all the time!
Minor Pads 1: Lots of texture. The tonal center revolves around an actual minor key signature (as opposed to the relative minor of a major key).
Minor Pads 2 (Gregorian): The darkest sounding of all our pads. These sound almost menacing. We think they are perfect for setting an eerie mood, which can be extremely effective during something like a Good Friday service, for example. A couple caveats: We don't recommend listening to these with the lights off. We also warn against the key of D Minor. It is the saddest of all keys. You may weep instantly.
What are Pads?
Pads create an atmospheric ambient texture that sits underneath everything. It gives the music a sense of depth and weight and it helps glue everything together. With any of our Pads sets, you can have that sound present in all your songs and other service elements with a tap of a button.
It really is that easy – to use the Pads during a song, simply play the Pad in the same key as the song, and everything will just work. We are also working hard to create more versions and variations of Pads. It's always good to have multiple sounds and textures available so you can choose the perfect sound to fit the moment you're trying to create. Listen to the previews below and choose your favorite sounding set, or get them all!
How it works
Pads are not progression specific, so no click track is needed
Use the examples below – play along with them on your guitar or other instrument
Just play the pads in your desired key, and any progression in that key will fit perfectly over the top of them
You get all 12 major keys
FAQs
Does this mean I can play your Pads as an instrument?
Kind of. The Pads are still audio samples that play back when you trigger them – they're not software patches that you play with a keyboard. But you can control how they sound using the Transparency and EQ knobs.
Do I need to purchase Pads sets to use with these patches?
No, you don't need to purchase anything else to use the MainStage Pads Player patches. All the audio files are included.
How is this different than the regular Pads sets?
Besides the fact that it's a MainStage patch rather than just an mp3 file, these patches provide an enormous amount of flexibility compared to Pads if you're already using MainStage.
What if I already have Pads, is there a benefit to having these patches?
We think so, and we use both the Pads mp3 files and these MainStage patches all the time in our worship services. Having Pads connected to a MainStage rig on your stage is extremely beneficial, but there are times where you may want to play them from your production booth or a mobile device. Having both the regular Pads sets and the MainStage patches allows you to utilize Pads in a wide variety of situations.
Why did we make Pads?
The answer is simple: We wanted to use them in our church. Once we did (and we realized how awesome they are), we wanted to share them with you. Watch this video to learn more:
Hear Pads in action
We've created countless videos on our YouTube channel (and in the Tutorials section) featuring acoustic guitar, vocals, and Worship Tutorials Pads, but here are a few:
Passion Song - Feat. Pads 6
Jesus Paid It All - Feat. Pads 2
Fierce (Jesus Culture) - Feat. Pads 5