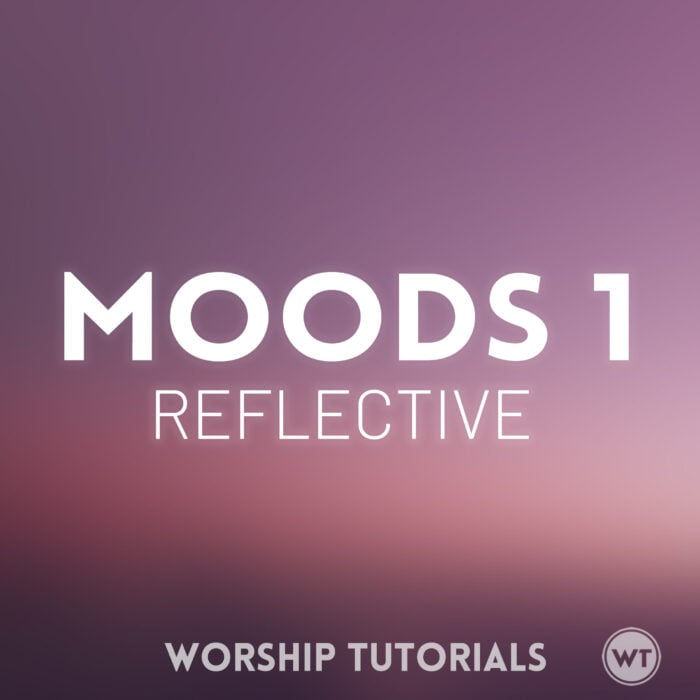 MOODS
Ambient sound beds that are perfect underneath spoken word or other transitional elements
MOODS are like Pads, evolved
MOODS are perfect to play underneath spoken word or transitional elements in your worship services where you'd like to add an element of ambience and atmosphere. We also include chord charts and click tracks so your band can play along with them.
MOODS come in all 12 keys, allowing you to seamlessly transition between songs or other musical elements.
MOODS are sonically similar to our Pads products, but they contain more movement and instrumentation (but not nearly as much as Bumper Music). All MOODS packs have a set progression that repeats over and over. If you love what Pads can do for your worship services, but want something with a little more musical content, MOODS are perfect for you.
Introducing MOODS from Worship Tutorials
FAQs about MOODS
How can I use MOODS?
You will be able to use MOODS without restriction in your worship services – no need to display copyright information. You are free to use it any way you'd like in a live environment as well as streaming (if you stream your service to multiple campuses or an online service. You may not use it to create content that will be sold (as backing music for videos, audio, etc). If you would like to use Bumper Music to create content that will be widely distributed (YouTube, Vimeo, etc), please contact us first.
How are MOODS different than PADS?
MOODS and Pads both offer ambience and atmosphere to different elements of your worship service, but they are different (and complimentary) in several key ways:
PADS do not contain tempo or chord progression information, meaning you can play them under most any song in the same key.
MOODS do have both a tempo and a set chord progression
MOODS contain more melodic and instrumental information than PADS
Most MOODS packs include a 'rhythm' or 'groove' track that includes rhythmic elements – Pads do not.
MOODS packs include chord charts and click tracks so your band can play along to the progression/
Can I play MOODS underneath songs in my worship set?
No – MOODS are designed to stand on their own and cannot be played underneath other songs (that's what PADS are for). But they are perfect to play under:
Announcements
Prayer times
Baptism
Messages (especially at the end before a musical element)
Transitions between one section of a service to another
What will I get with a MOODS pack?
You will get a .zip package containing mp3's, click/cue stems, charts, and a ReadMe PDF. MP3 files are playable in a huge variety of hardware and software – it will easily integrate into your existing workflow.
How do I use it in my services?
MOODS files are simply mp3 files, so you can use it however you want as most audio apps can support mp3 playback.
We love to use MOOdS inside of ProPresenter. Here is a video showing how to do that.
You can also use it from your phone with any mobile app that supports mp3's. Here is how to use them in the Soundboard Studio iOS app.These videos show how to do it with Pads, but the process is exactly the same.
Can I download MOODS directly to my phone or mobile device?
No – unfortunately Apple does not support this. But getting MOODS on your phone is simple – just download and extract the .zip file after purchasing, and then add the files to iTunes and sync to your phone. Here's a video showing how to do that. The video shows how to do it with Pads, but the process is exactly the same.
How long are the tracks?
About five minutes long, but you can loop them indefinitely.
Why all 12 keys?
We made MOODS in every key because we needed it in our services. We feel this is essential, and this sets up apart from other backing track providers. When crafting an excellent worship service, being able to match the key from one element to the next is essential. This lets you play MOODS during announcements in the key of D that flow right into the next song in the key of D.
Will we make different styles?
Yes. Many more coming soon 🙂