Description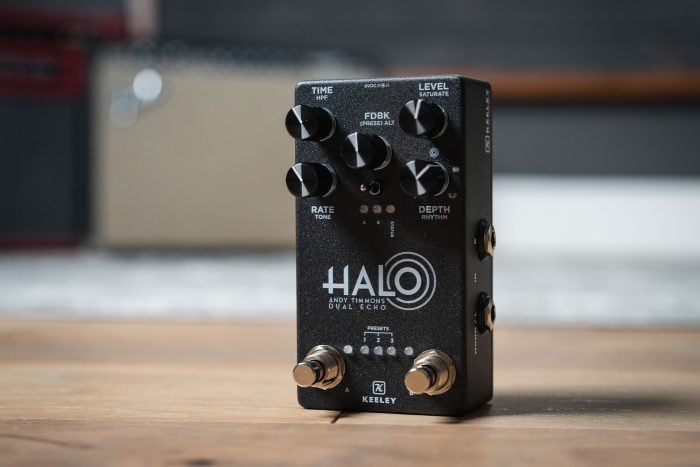 These files are designed to emulate the 'Halo' delay sound used by Andy Timmons, and recently released in the Keeley 'Halo' delay.
Andy Timmons first developed this sound using two Memory Man delay pedals in series. In collaboration , Timmons and Keeley released the 'Halo' delay, which took this sound and expanded on it.
These effects settings will emulate the Halo algorithm in the pedal (preset one on the Halo delay), giving you a dotted 8th and quarter note delay in series. These settings are mapped to the BPM of the patches you use them in, so to emulate the delay the way Andy uses it, you'll want to set your BPM around 100.
Available for Helix (floor, LT, and Native) and HX Stomp (including Stomp XL)
This download includes includes .FAV files that are compatible with Helix and HX Stomp (not compatible with POD Go). There are two 'FAV' files required to create this sound. They are numbered '1' and '2'.
Halo Delay 1 is a Dual Delay block set to dotted 8th. Halo Delay 2 is a Vintage Digital delay block set to quarter note.
These two delay blocks are designed to be run in series, one right after the other. If you'd like, you can map both delays to a single button and label it 'Halo Delay'. Alternatively, you can use 'Bradford' settings to get the sound Bradford dialed in. Bradford's settings are warmer with a bit more modulation.
Available for Axe-FX III, FM3, and FM9
For Fractal hardware, we have delivered these effects settings as Block Library files. These files bring up the 'Aurora' algorithm within the Multi Delay block. We have delivered two different options. If you use the Multi Delay block in a series configuration, use the 'Series' block. If you are running it in a parallel configuration, use the 'Parallel' block. NOTE: This is referring to how you have the block placed within your preset.