Available Monday, March 13
We're excited to announce that Bumper Music, Volume 2 will be releasing very soon. Here's a full preview of the track: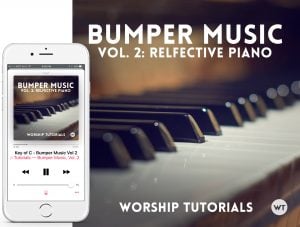 Bumper Music is audio tracks you can play underneath any element of your worship services. It's perfect for times like announcements, offering, communion, prayer, etc. Available in a variety of styles to suite your church culture, and every set comes in all 12 keys, which allows you to create seamless transitions from other musical elements of your service.
Bumper Music, Volume 2 is an emotional and melodic piano piece that is perfectly suited for reflective moments in your services like prayer or the end of a message. It also works extremely well underneath announcements and other service elements like Communion or Baptisms. We love to add it as a score to videos that we produce in house – anything that needs an emotional element.
We'll be releasing Bumper 2 on March 13 – pricing will be $12.99 for a limited time, with a regular price of $14.99
[button link="http://www.worshiptutorials.com/bumper-music"]Buy Bumper Music, Vol 1 here[/button]