PADS 6 (Shimmer Pads) – Releasing April 17, 2017 (the Monday after Easter)
To celebrate the release of Pads 6, we're throwing a one-day Holy Hangover sale. You'll be able to pick up Pads 6 for just $9.99 (REG $14.99).
What is 'Shimmer'?
Shimmer is a sound that you hear in all kinds of modern worship music. It's a high pitched ethereal sound that sort of sits on top of everything and just makes stuff sound awesome. We like to use words like 'glory' or 'majesty' or 'angelic' to describe how it sounds.
We think Pads 6 are our best sounding Pads yet, and if you already own other sets of our Pads, they will give you a new sonic flavor to add to your arsenal.
Holy Hangover?
Easter is a huge day for the church, and a day of celebration for Christians everywhere. The Monday after (Holy Hangover Day) is a day where worship leaders world-wide recuperate from the massive task of pulling off Easter services. In the past, I can remember not sleeping for days on end leading up to Easter Sunday.
But this year, the Monday after Easter is not a day to stay in bed all day, it's a day to save over 30% on our next and best set of Pads :).
GET PADS 6 for just $9.99
HOLY HANGOVER ONE DAY SALE // April 17, 2017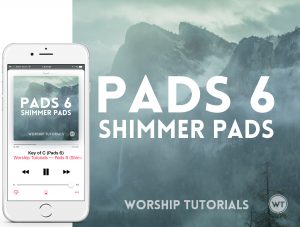 Pads 6 are releasing the day after Easter – April 17, 2017. We are having a huge ONE-DAY sale to celebrate their release. For one day only, get Pads 6 for $9.99 (REG $14.99).
Mark your calendars – you're not going to want to miss this sale!
Stay tuned for audio samples and more details.
[button link="http://www.worshiptutorials.com/pads/"]Learn more about Pads here[/button]