Pads 7 (Guitar Pads) demo with acoustic guitar
Pads 7 (Guitar Pads) demo with piano
Introducing Pads 7 (Guitar Pads) // Available Tuesday, December 12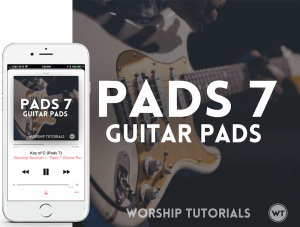 Pads 7 are made almost entirely of guitar swells for a unique take on Pads. They work the same way as our other (synth based) pads do, but have a different texture and flavor.
With Pads 7, you actually get two sets of Pads. They come in two versions: Ambient and Guitar Only. The Ambient version includes more delay and reverb for a bigger, more expansive sound, while the Guitar Only version is more focussed with a lot more of the raw guitar sound present.
Use the Guitar Only pads when you want more sonic space, or blend them with previous pads sets for a whole new sound!
Pads 7 will be priced at $14.99 (includes both versions)
Previews
These audio previews are 3 minutes in length, but the Pads themselves are 20 minutes long. Feel free to play along to these previews on guitar (or keys or any instrument) and experience just how much they can add to your sound.
Pads 7 (Guitar Pads – Ambient) previews:
Pads 7 (Guitar Pads) previews:
December Sales Event
To kick off the release of Pads 7 (Guitar Pads), we are offering 20% off everything. That means you can get Pads 7 for just $11.99.
You can even apply this discount to our bundled pricing, which means if you buy 5 or more sets of Pads or Bumper Music, you'll save almost 50% off your entire order!
Details will be coming soon about the sales event.