If you've ever played music with other musicians before, you don't need me to tell you just how important timing is. The bottom line is this: you need to be practicing to a metronome. It's one of the first pieces of advice I give to anybody who takes guitar lessons from me.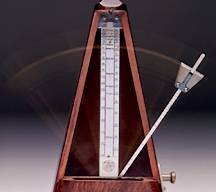 As soon as you start practicing with a metronome, you'll notice a few things:
Your sense of tempo, timing, and rhythm will improve dramatically
Your strumming will get better (guitar players)
You will lock in better with other musicians
You'll be able to use click and backing tracks live
Back when I was taking piano lessons as a kid, my teacher used a metronome like the one on the right. These days you've lots of options ranging from physical devices to software solutions. My favorite metronome is actually an iOS app (also available for Android) called Tempo.
Tempo iOS and Android app
Download Tempo here. Tempo gives you tons of options, including tap tempo, lots of time signatures (35, to be exact) and beat patterns, the ability to create custom playlists (great for rehearsals with the band), and more. It's extremely intuitive, and at $1.99, it's a no brainer.
Here are a few videos from Frozen Ape (the company behind Tempo) that show you exactly how it looks and functions:
So – do you use a metronome (and if not, why not)? What's your favorite?