Description
THE MOST INTUITIVE AND EFFICIENT WAY TO PROVIDE SMOOTH TRANSITIONS, PADS AND UNDERSCORE DURING YOUR LIVE PERFORMANCES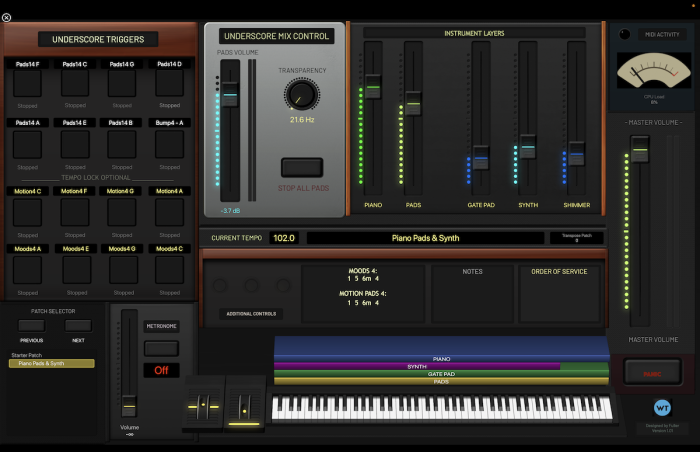 5 PRODUCTS IN ONE: WORSHIP TUTORIALS PADS, MOODS, MOTION PADS and BUMPERS – BUILT IN
We've included the entire family of Worship Tutorials Pads 14, Motion Pads 4, Moods 4 and Bumpers  4 in this patch as well. These products are integrated into the MainStage player, but you also get the stand-alone versions of them.
Pads  can play underneath everything – they're the same as our award-winning Pads products, just built into MainStage. Just press the button and the Pads play – you can then play anything you want on top of them. Motion Pads have a chord progression and allow you to play piano overtop of a smooth pad bed to complete a rich sound bed. Moods are motion Pads but with an added percussion or groove layer. Bumper Music is a full, royalty-free music track that you can use for transitions in your live experiences.
This functionality is a sample of what we offer with our MainStage Pads Player line of products.
IMPORTANT NOTES
1. APPLE MAINSTAGE REQUIRED. This patch is designed to work with MainStage by Apple. It will not work on any other piece of software. MainStage is available here (or in the Mac App store): https://www.apple.com/mainstage/. Make sure to use the latest version of the software.
2. ALL SOUNDS ARE BUILT IN: This patch does not use any 3rd party plugins or instruments/sounds. Everything you need comes stock with MainStage. 
INCLUDED FEATURES and UPDATES
The MainStage Transition Player is based off of the concept of our original "Pads Player". However, we have simplified the design and adde some awesome user requested features to enhance this product. The sound samples that we've included in this patch are designed to cover a wide variety of keys sounds found in modern worship music. This product is designed to allow you complete freedom of customizing your sound beds and audio files that you are able to trigger. This goes beyond PADS. 
ENHANCEMENTS:
CUSTOM IMPORT: We have added the ability to easily IMPORT your own PADS that you may already own as well as any audio file that you would like to assign to the "Underscore Triggers".

 

By clicking on the "Player", in the channel strip, you can import your own files and the Trigger Button "name" in the user interface will change to reflect that of the file name that you have imported. Check out our online tutorials on how to IMPORT your own files easily and quickly!

 

TEMPO MATCH: Moods and Motion Pads have now been made available in ".AIF" format which allows you to TEMPO SYNC them in your MainStage project. So for example, you can have the motion pads playing at 90 BPM simply by setting your patch tot hat tempo. And for the the next song, you could change that tempo to 82 and the Motion Pads or Moods will follow that tempo. This allows for super fluid and smooth transitions in between songs and elements of your live  performance. Check out our online tutorials on how to do this!
SIMPLIFIED ROUTING: We have removed the master effects channel strip and Eq to prevent changes to you sounds that you import form third parties. We have found that most user simply like to adjust their sound in the channels of the individual instruments. This also frees up memory.
ALL FILES INCLUDED: This version comes loaded with the complete set of Pads 14 (Neutral Keys), Motion Pads 4, Moods 4 and Bumper 4 – Modern Chill. Although 12 Triggers come pre-loaded to get you up and running, you can access all of these files in all 12 keys at anytime and import the as listed above in the "Custom Import" section.
THE BASIC PATCH INCLUDES THE FOLLOWING DESIGNED SOUNDS:
Piano: A basic piano patch. Designed by Fuller using MainStage Native Samples. Custom Effects Routing to enhance depth and response.
Pads: Ambient pads (this is different than the Pad drones that can be triggered). Designed by Fuller using MainStage Native Synth "ALCHEMY". Custom Verb Routing to enhance depth.
Gated Synth: A Super cool and highly usable synth created with ES2 and some Coll Step FX settings! Follows the tempo of your patch and adds movement to your chords.
Synth: A bright and fast basic synth patch designed in ALCHEMY to give some serious sonic blast to any of your playing! Sounds great underneath your piano and very effective for lead riff lines.
THIS PATCH INCLUDES THE FOLLOWING EFFECTS:
Reverb Shimmer: Ethereal shimmer reverb created using stock plug-ins
USAGE
TRANSPARENCY
The 'Transparency' knob will roll low end off of the Pads drones. This only affects the Worship Tutorials Pads (triggered by the keys buttons). You can basically turn them into a shimmer type of pad sound.
TAP TEMPO
This button will control the tempo of all the time based effects (delays, arp, etc). FYI – This overrides the "Patch Tempo". This is used mainly for when you are playing live without a click and you need to keep you patches looser to follow the drummer.
EMERGENCY
This button stops everything!
CONCERT AND PATCH INCLUDED
We've included basic Piano and Pads patch. You can use the concert to get started right away, or you can import any of your current third party MainStage patches into our Transition Player interface.