If you're mostly a rhythm player, or (like me), mostly an acoustic player who strums open chords, octaves are a great way to start playing more lead guitar like things. Really, playing octaves is more rhythm guitar style-wise, but it sounds much more like lead guitar than strumming open chords, and it's a great way to add some more melodic playing to your skill set.
Finger placement for A and G string octaves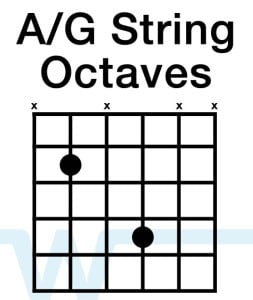 Playing octaves is pretty simple – you just play 2 strings, and you move the shape up and down the neck. Here is a diagram showing which strings to play for an A-string and G-string octave.
I like to use my index (1) finger on the A string, and my ring (3) finger on the G string. Space your fingers so that you are two frets apart. For example, if your index finger is on the 2nd fret of the A string, your ring finger will be on the 4th fret of the G string.
You'll want to mute all the other open strings, and it's pretty easy to do that with your index finger if you lay it across the strings. The only notes that ring out are the A and the G strings.
When you strum the strings, you'll hear the same note one octave apart. All you need to do now is move the shape around to create melodic lines.
Know your notes
In order to really make octaves work, you need to know the notes on the low E and A strings for the first 12 frets. Since we're using an A/G string octave, let's focus on the notes on the A string. Here they are according to the fret:
Open: A
1st fret: Bb
2nd fret: B
3rd fret: C
4th fret: Db
5th fret: D
6th fret: Eb
7th fret: E
8th fret: F
9th fret: Gb
10th fret: G
11th fret: Ab
12th fret: A
Notice that the scale starts over at the 12th fret. When you're playing A/G string octaves, the note you're playing corresponds to the fret you're on (on the A string). In the video above, I use a simple example of playing an D – A – G progression. To play that, I went on the A string from the 5th fret (D) to the 12th fret (A) to the 10th fret (G).
As you learn scales, you'll begin to understand how you can walk up and down in different keys.
Bonus tip
This same octave shape works on the low E and D strings as well – just use the E string notes as a reference for what octave you're playing.
Octaves are a great tool, and a very easy introduction to more lead-type guitar. They work especially well if you're playing rhythm or if you're the only electric guitar player in the band and you need to cover both rhythm and lead type sounds.