Description
PATCHES
This download includes patches for Helix, HX Stomp, and POD Go. Please make sure to import the appropriate patch for your hardware – they are not interchangeable.
The pack includes 2 patches (each with SC and HB options). One set of patches was made with the original Jensen speaker (denoted 'J'), and the other with a Celestion Alnico Gold speaker (denoted 'G'). See the amp section below for more details on the differences between them.
64 PRINCE J/G TM WTs – This patch uses the IR's and is meant for guitars with single coils.
64 PRINCE J/G TM WTh – This patch uses the IR's and is meant for guitars with humbuckers.
NOTE: The HX Stomp and POD Go folders include 'FX" patches. These patches include the additional effects blocks from the full Helix patch.
NOTE: POD Go does not include the 'JMP' patches because it requires two amp blocks in stereo.

OUR '64 FENDER PRINCETON RE-ISSUE, NOW IN YOUR LINE 6 HARDWARE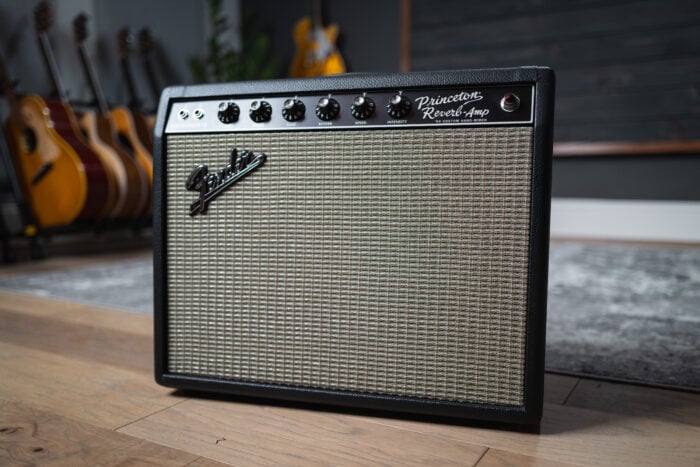 For these patches we tone-matched the stock Line 6 HX amp models to our Fender '64 Princeton Hand-wired Re-Issue amplifier. The result is a set of Tone Match Impulse Responses that completely transform the Line 6 amp models, making the Line 6 hardware sound exactly like our amp, and the microphones, preamps, and EQ chains that we use to record it.
The '64 Hand-wired Princeton Reverb Re-issue is a completely faithful reproduction of a vintage 1964 Princeton Reverb. Fender spared no expenses and cut no corners making these, using premium components and built quality from start to finish. It sounds like the real deal.
We've included two separate preset options for you. The 'J' presets use the stock Jensen speaker, which is faithful to what Fender would have used in the '60's. These are the speakers most people upgrade to when they swap out a speaker on their run of the mill Princetons. 
We've also included a set of presets using a Celestion Alnico Gold speaker in the amp, which warms the amp up, giving it a smoother top end, creamier overdrive break-up, and more chime. We love them both and honestly we couldn't decide which one to go with, so we just decided to include them both in this preset. 
SIGNAL FLOW AND EFFECTS
Input
Compressor
Pitch (POG)
Drives: KOT (red and yellow options), 808
Volume – mapped to EXP 2
Tremolo
Chorus
Delays: 1/8 delay, Dotted 8th delay, Dual stereo delay
Reverbs: Spring (subtle), Dynamic Hall (huge)
Amps
IR (Tone Match)
EQ
Solo Boost
Output
The HX Stomp and POD Go patches cannot fit all the effects into a single patch. For those platforms, we include the amp and essential effects in the main patches, and then we include the additional effects blocks in the 'FX' patches. Feel free to mix and match the additional 'FX' blocks into the main patches to suite your needs.
SNAPSHOTS
Snapshot 1: CLEAN. Base clean tone
Snapshot 2: DRIVE. Stage 1 drive tone
Snapshot 3: DRIVE+. Big rhythm tone
Snapshot 4: P&W LEAD. Lead tone with lots of delay and verb
Snapshot 5: AMBI CLEAN. Clean tone with lots of delay and verb
Snapshot 6: CHOR CLEAN. Clean tone with chorus
Snapshot 7: CLEAN TREM. Clean tone with tremolo
Snapshot 8: SWELLS. Big ambient swells tone
POD Go:
Snapshot 1: CLEAN. Base clean tone
Snapshot 2: DRIVE. Stage 1 drive tone
Snapshot 3: P&W LEAD. Lead tone with lots of delay and verb
Snapshot 4: AMBIENT. Ambient clean tone
NOTE: The HX Stomp patches do not include Snapshots
CHANGELOG
Initial Release (1.0): 2022-08-05