Description
INCUDED PRESETS
This download includes patches for Axe-FX III, FM3, and FM9. Please make sure to import the appropriate patch for your hardware – they are not interchangeable.
The pack includes 3 presets (each with SC and HB options). One for the British (B) setting, one for the American setting (A), and one for both settings together in stereo (JMP).
BNSN MNRCH B/A/JMP TM WTs – This patch uses the IR's and is meant for guitars with single coils.
BNSN MNRCH B/A/JMP TM WTh – This patch uses the IR's and is meant for guitars with humbuckers.
NOTE: The FM3 folder includes an 'FX" patch. This patch includes the additional effects blocks from the full Axe-FX and FM9 patches. Feel free to substitute any of these effects blocks into the main patch to suite your needs.
NOTE: FM3 does not include the 'JMP' presets because it requires two amp blocks in stereo.
OUR BENSON MONARCH, NOW IN YOUR FRACTAL HARDWARE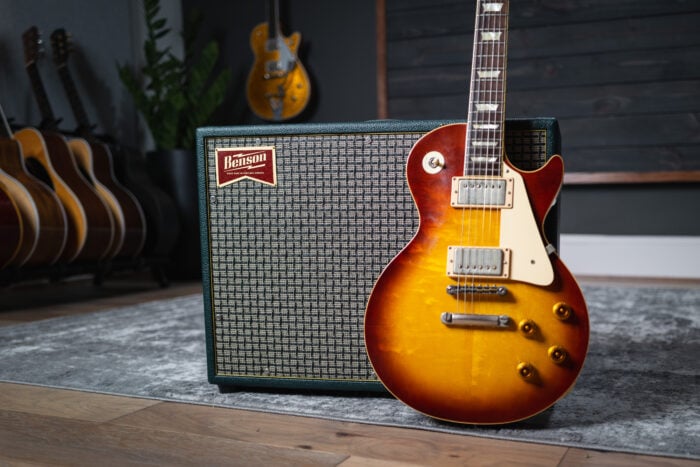 For these presets we tone-matched the stock Fractal amp models to our Benson Monarch amplifier. The result is a set of Tone Match user cabs that completely transform the Fractal amp models, making the Fractal hardware sound exactly like our amp, and the microphones, preamps, and EQ chains that we use to record it.
The Monarch from Benson is a smaller amp that sounds incredibly good and has a lot of versatility. It features two different voices via a toggle switch – American and British, which are designed to get classic Fender and Vox tones. We've tone matched both voices, and we've included a 'jumped' patch that puts them both in a stereo configuration (you cannot blend the channels on the actual amp).
SIGNAL FLOW AND EFFECTS
Input
Compressor
Pitch (POG)
Drives: KOT (red and yellow sides), 808, fuzz, and more
Volume *needs to be mapped to an expression pedal
Tremolo
Chorus
Delays: 1/8 delay, Dotted 8th delay, Dual stereo delay
Reverbs: Subtle and Huge
Amps
IR (Tone Match)
Solo Boost
Output
The FM3 presets cannot fit all the effects into a single patch. For that platform, we include the amp and essential effects in the main presets, and then we include the additional effects blocks in the 'FX' preset. Feel free to mix and match the additional 'FX' blocks into the main patches to suite your needs.
BLOCK CHANNELS
For each effect block, we set up all four channels to give you as many options as possible for each individual effect types. For example, in the Compressor block, there are four different types of compression. For drives, we use all available channels in each drive block to get different overdrive flavors. Please experiment with the channels in all the different blocks to find your favorites. Typically we use our favorites in Channel A.
The exceptions to this are usually the amp and cab blocks – for those we usually only set up Channel A.
SCENES
The following scenes are set up for instant access to various tones:
SCENE 1: CLEAN. Base clean tone
SCENE 2: DRIVE. Stage 1 drive tone
SCENE 3: DRIVE+. Big rhythm tone
SCENE 4: P&W LEAD. Lead tone with lots of delay and verb
SCENE 5: AMBI CLEAN. Clean tone with lots of delay and verb
SCENE 6: CHOR CLEAN. Clean tone with chorus
SCENE 7: POG LEAD (Rock Lead for FM3). Lead tone with lots of delay and verb, plus POG
SCENE 8: SWELLS. Big ambient swells tone
USAGE TIPS
STEREO
Our presets are designed to be used in stereo. If you are running mono, you'll need to sum your signal to mono before going to FOH (if you only use the Left output, won't hear some of the delays at all).
The easiest way to make this adjustment is in the 'Setup' menu:
Choose 'Setup', and select 'I/O'
In OUTPUT 1 CONFIGURATION (choose the physical output you are using), change the 'Mode'. Select 'STEREO' if you are running in stereo. Select ''SUM L+R' if you are running mono. This will convert your output to mono and sum the stereo image. This will also cause all your presets to output in mono, as it is a global setting.
EXPERIMENT
We design our presets for maximum usability across a wide range of styles and gear. We also realize that every player and every setup is different. Feel free to experiment with different effects and settings within the patches. We recommend copying the patch into a new slot before experimenting. This way you can always revert to the original if you'd like.
PER-PRESET MAPPING AND OVERRIDES
AXE-FX III & FM3 PER-PRESET MAPPING AND OVERRIDES
The Axe-FX III and FM3 presets are designed to integrate with Fractal's FC Controllers. Axe-FX III presets have FC-12 'per-preset' programming, and FM3 presets have FC-6 'per-preset' programming.
To view and edit this programming, open the 'Edit' software for your hardware device and navigate to the 'FC Per-Prst' and "FC Edit' tabs. There you will see the individual per-preset mapping and those assignments on the FC controllers.
For Axe-FX III, we've mapped the per-preset overrides to Layouts 7 (Scenes) and 8 (Effects). For FM3, we've integrated the per-preset mapping with the OMG9 custom layout (more info here: https://forum.fractalaudio.com/threads/fm3-fc-6-omg9.160180/)
FM9 PER PRESET MAPPING AND CUSTOM LAYOUTS
Our FM9 Presets use Layouts 6, 7, and 8. Each of these layouts utilizes the three buttons below the display as utility buttons, and the six buttons on the right change depending on what layout you are on. All of these buttons utilize Per-Preset mapping, so they won't mess with you existing presets.
LAYOUTS:
Layout 6 (FX1 WT): This layout gives you drives and modulation effects
Layout 7 (FX2 WT): This layout gives you reverbs and delays
Layout 8 (SCENES WT): This layout gives you scenes
UTILITY BUTTONS (Below the display)
Tap Tempo/Tuner: Tap tempo, and press and hold to tune.
PRESETS. Tapping on this button recalls Layout 1, which is by default a preset menu. Press and hold to move down one preset.
VIEW: Tapping on this button will cycle through Layouts 6, 7, and 8, allowing you to cycle through the different effects and scenes layouts. Press and hold to move up one preset.
We have also included a Custom Layouts file. You can import this using FM9 Edit. We have altered Layouts 6, 7, and 8, so the rest of the layouts will import as the factory settings.
CHANGELOG
Version 1.0 – 2022-07-20