[tabs style="boxed"]
[tab title="Song Videos"]


[/tab]
[tab title="Tutorial"]

[/tab]
[tab title="Chord Charts"]

Always – Chart Kit – Kristian Stanfill arrangement
$1.99
Arrangement: Passion – Here For You (Kristian Stanfill)
Keys included: A, Bb, B, E, F, and G
Listen in iTunes
For a male lead, use keys A, Bb, or B. For a female lead, use keys E, F, or G. G is included for use with a capo.
Description
Chord Chart kits include both Nashville charts and lyric charts in various keys. Your download will be in the form of a .zip file. Extract the file and you will find two folders, 'Lyric Charts and Nashville Charts'.
Only logged in customers who have purchased this product may leave a review.
[/tab]
[tab title="Multitrack"]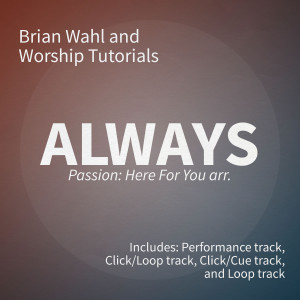 Loop Details
Arrangement: Passion – Here For You (iTunes)
Key: Bb
Tempo: 69 BPM, 4/4 time
Purchase (Loop Community)
[button link="http://loopcommunity.com/node/10314?p=16725″ size="large" bg_color="#44ABD8″ window="yes"]Purchase from Loop Community[/button]
Loop: $9.99
Multitrack: $19.99
With the loop, you get 3 files – one with the click/cues panned hard L and the loop panned hard R, a stereo file with just the loop, and file with just the click/cues. With the multitrack, you get a folder of WAV files – each part as an individual file (this is great if you just need some or all of the parts in the loop).
Info
This is a full backing loop which includes drums, bass, pads, piano, and electric guitars. Also included is a custom click track with vocal cues. If you're leading from acoustic guitar and want a full band backing you, this is the loop for you. I recorded and arranged this to sound very close to the Passion: Here For You album version.
How does it sound?
Here is a video of me playing along to this loop:

[/tab][/tabs]
Always has remained one of my favorite songs to come from any of the Passion albums. It's pretty easy to play as well.