Arrangement
Artist: Hillsong United
Album: Wonder
album info: Album Key: B (male), 88.5 bpm, 3/4 time
In our arrangement, we're playing in the key of Eb (Brian is playing key of D chords with a capo on the 1st fret). This works well for a female lead.
Chord Diagrams – Key of G:
Chord Diagrams – Key of D:

Strumming Patterns
1   2   3   4   ,...
d  udud  udud du,...
Wonder is a simple song using just three chords. On the album it's in the key of B, which could work for a low male or high female lead. In our collaboration with Bria Jean, we've done it in Eb. This makes it a bit easier for a female to sing. For a male lead, try G, A, or B.
Wonder – Hillsong United arr. – Chord Charts
$1.99
Description
Chord Chart kits include charts with lyrics and chords over the top of the words in all keys. Your download will be in the form of a .zip file which includes a chart for each key (PDF), and a .txt file in ChordPro format for pasting into applications like Planning Center or any other app that accepts ChordPro formatting.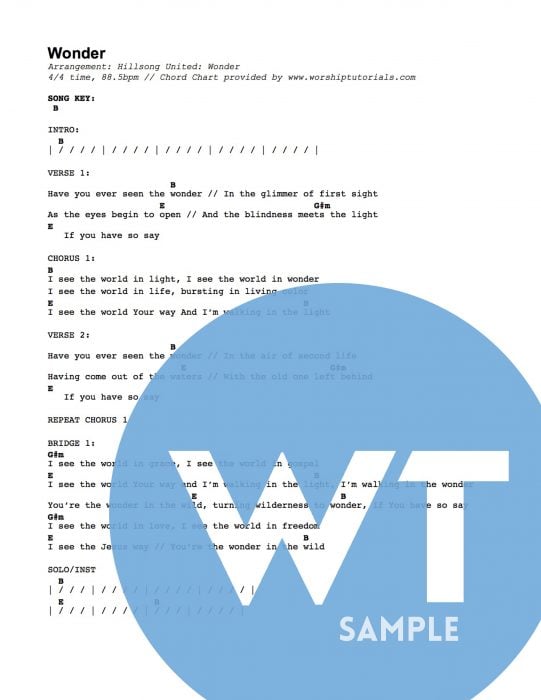 Only logged in customers who have purchased this product may leave a review.
View the latest songs and tutorials