Nick reviews the Fulldrive 2 Mosfet overdrive and boost pedal by Fulltone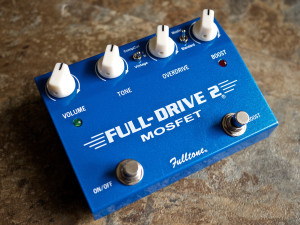 [button link="http://www.musiciansfriend.com/amplifiers-effects/fulltone-fulldrive2-mosfet-overdrive-clean-boost-guitar-effects-pedal" size="large" style="tick" bg_color="#44ABD8″]Purchase a Fulldrive 2 Mosfet[/button]
Overdrive
The Fulldrive 2 Mosfet is a Tube Screamer based overdrive and boost dual pedal. The left side of the pedal is the overdrive section, and features the following controls:
The overdrive section features 3 different voicings which are labeled as:
Comp cut (comp)
Flat Mids (FM)
Vintage
The comp cut acts as more of a clean boost. In this mode, you have to turn up the overdrive knob more than in the other modes to get the same level of drive. The FM mode, the drive is more transparent, which means it doesn't color your original tone. Finally, in Vintage mode, the mids are more pronounced, adding a unique character to your tone.
Boost
The boost section features a single knob labeled 'Boost'. There are two clipping modes on the boost – Mosfet and Standard. The standard mode acts more as a strict volume boost, though you will add more gain into your signal with this mode – Fulltone describes it as 'asymmetrical'. We like to say it doesn't add a blanket of gain onto your tone.
The Mosfet clipping mode adds significantly more gain when it is engaged. Turn it up enough and you get almost into distortion or fuzz territory.
The boost is not independent, meaning you cannot engage the boost with the overdrive off.
What we like
Tone! The Fulldrive 2 Mosfet sounds great. It's like a tube screamer, but much better, and much more versatile. It stacks well with other drive pedals.
We also really like the footswitches. Fulltone describes them as 'No thump, no pop' true bypass switches. Many switches will add a pop into the actual signal (not just the audible click), and these are quiet. You still hear the click, but it is not introduced into the signal.
The construction is top notch – we see this pedal lasting a long time. Plus the paint and design is classy.
More info and where to purchase
Visit Fulltone for more info on this pedal
Buy from Amazon for under $150
[button link="http://amzn.com/B000S5V510″ size="large" style="tick" bg_color="#44ABD8″]Buy from Amazon[/button]