In ear monitoring does not have to be expensive, and in this video & post, we'll go through all the gear you need to set it up for under $110 (as of Jan 5, 2016).
A few notes…
This guide assumes you already have a few things.
First, you'll need to have a sound board that supports at least one sub mix. Most boards that are 16 channels or more have two more more busses (or sub-mixes). These mixes that are completely separate from the main FOH (front of house) mix, and you can send them anywhere you want. They can be used as recording mixes, monitor/wedge mixes, or they can be used as your in-ear mixes. Typically the board will have mono outputs for these mixes that can feed any kind of setup you'd like. We're going to use them for in-ear mixes.
Next you'll need to have a set of headphones. We recommend either the Shure SE215 or the Westone UM-2 headphone, both coming in right around $100. Any old set of headphones will work, but if you're using click tracks, it's important to use headphone that go deeper into your ears, rather than something like the buds that come with your iPhone. Those will bleed, and everyone around you (including the congregation) will be able to hear that click track coming through your headphones.
This is also a wired setup. Wireless in ear monitoring is significantly more expensive due to the cost of the wireless units themselves. And if you don't buy really high quality wireless gear, a wireless setup won't sound as good, either.
The Gear…
I've set up an Amazon list (click here to see it) containing all the gear in this guide. Your first reaction when looking at this list may be, "That's way more than $110!". Please read carefully below – I've included extra options in case you'd like a more robust system that can handle up to 8 people.
The "under $110" setup would accommodate one musician.
Headphone amp – Rolls PM50s. Currently $44.00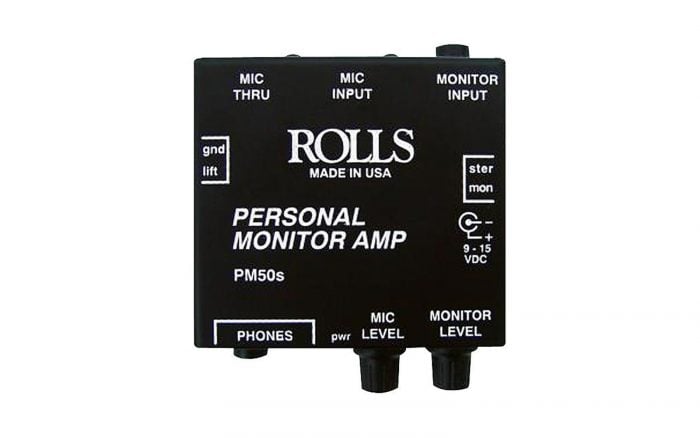 The basics of this setup is a headphone amp and cables – that's literally all you need. I've used these Rolls headphone amps for years, and they are still in use at the church where I lead worship. They are extremely reliable and very affordable.
These headphone amps have a feature where you can run your own mic or instrument through it (that's the 'mic input' and mic through') and mix more of yourself into your mix. I've personally never used this feature, but I've been told it works well.
They accept a stereo input, which is why I've included a stereo cable…
Stereo 1/4″ male to male cable – 50′. Currently $26.65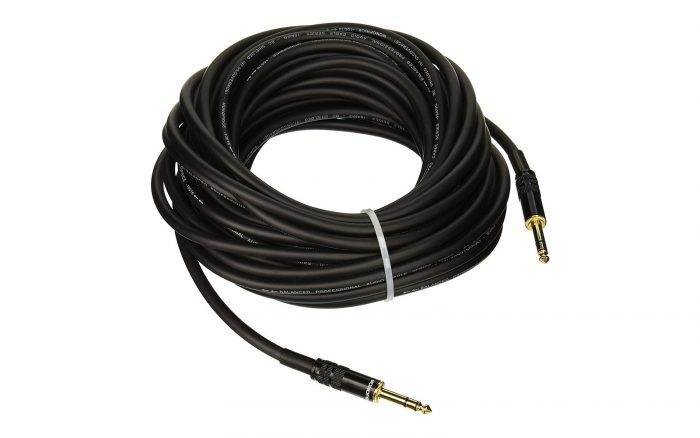 I've chosen a cable made by Monoprice. They make budget cables that are fairly reliable. I have used (and currently use) a lot of mono price cables. For the most part, they are very reliable, but I have had one or two go bad on me, so you could choose to buy a higher quality cable here if your budget allows.
This cable connects the monitor/bus output of your board to your headphone amp, so you'll need to make sure it's long enough to run from your board to your stage (where your headphone monitor(s) will live). You may need 100′ – it's a good idea to measure before you buy :).
I've chosen a stereo cable because the headphone amp will accept a stereo input. Some boards may offer you the ability to run a stereo sub-mix out. Even if everything is mono, a stereo cable will work just fine. If you have the opportunity to run a stereo IEM mix, do it. It's a glorious thing.
Headphone extension cable – 25′. Currently $6.99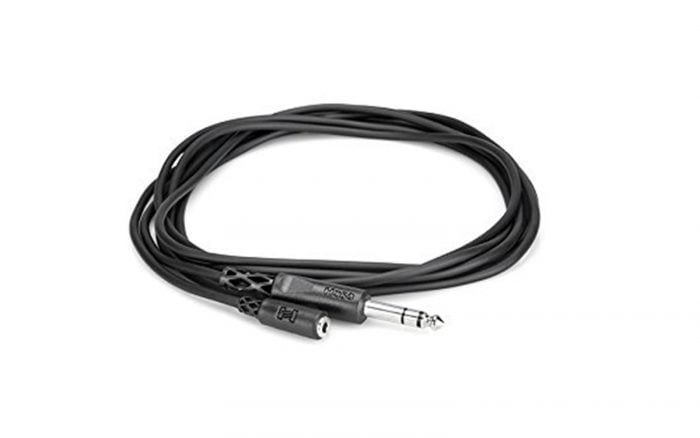 The last essential piece of gear you'll need is a headphone extension cable. This will run from the headphone amp to you. The idea is that the headphone amp lives in the back of your stage somewhere and you're tethered to it via this cable. This may sound cumbersome, but I've used this exact setup for years. It's not that bad having this cable attached to you at all – just remember to unplug it before you walk off stage!
If you play an instrument, there are cables out there that combine an instrument cable with a headphone extension cable. It's an elegant solution if that's something you're looking for.
Take it to the next level: Multitracks
For many people, the desire to use in ear monitoring is so you can run multi tracks (or just click tracks) in your services. This is actually really easy, and all you need is an iOS device and one more cable (and the multitracks themselves).
First the cable…
1/8″ stereo to dual 1/4″ mono cable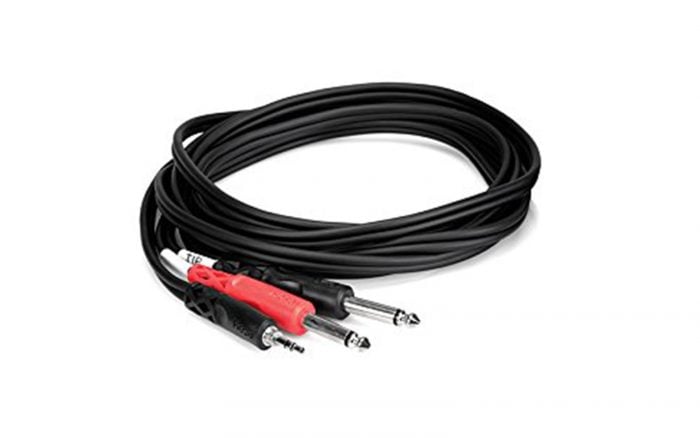 This cable connect the headphone out of whatever device you're using to play tracks and gives you a Right and Left channel input into your board. You'll want to make sure the click track is panned hard Left, and the tracks are panned hard Right. Now whatever channel you plug the black cable into is the 'Click' channel, and the channel you plug the red cable into is the 'Tracks' channel.
Loop Community Prime App on an iOS device
If you've got an iOS device, you can use the free Prime app by Loop Community to run full multitracks. The click/cues will automatically be panned Left and the tracks will be panned Right. You will have the ability to mix the tracks (and mute any instrument stems you don't want) to fit your needs.
We have a full tutorial on how to use the Prime app with any multitrack (including ours) below:
And now that you're ready to run multitracks, you can check out our collection of multitracks here.
How about more people?
This guide will set you up for one person running IEM's. You can duplicate it as many times as you'd like for more people (assuming you have that many bus sends on your board), but if you want to scale it up, here's a better option.
Behringer Pro-8, 8 Channel Headphone Amp. Currently $149
Buy the Behringer Pro-8 from Amazon
I know we've said 'Don't use Behringer products' before at Worship Tutorials, but they do make some really solid pieces of gear, and this is one of them. The Pro-8 is essentially 8 headphone amps in one box. You can run 8 completely different mixes into it (or you can run one mix into it and send that to 8 different people).
If you want to scale up, this is the way to go, in my opinion.
That's it – in ear monitoring (and multitracks) does not need to be expensive to be done well. Good luck! If you have any questions, please ask below.