[button link="http://www.shure.com/americas/products/wireless-systems/qlxd-digital-wireless-systems/qlxd24-b87a" window="yes"]Visit Shure's Product Page[/button] [button link="http://www.musiciansfriend.com/handheld-microphone-wireless-systems/shure-qlx-d-digital-wireless-system-with-beta-87a-condenser-microphone" window="yes"]Purchase from Musician's Friend[/button]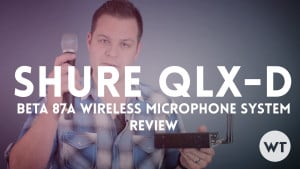 The Shure QLX-D Beta 87a Wireless Microphone System is a very high quality wireless microphone solution perfectly suited for high-quality (near studio quality, in my opinion) vocals for the small to medium sized venue. In other words, if your church needs a great sounding wireless mic – get this one!
First, let me tell a story
In my mind, there are two basic things a wireless mic system needs to do to be successful (and worth buying). 1) It has to sound good – in this case on vocals. 2) It has to be easy to set up.
Before I get into the specifics with this review, I'd like to tell you a story. In my church where I lead worship, we have a lot of wireless systems. We have wireless in-ear systems (Sennheiser), wireless instrument systems (Sennheiser and Line 6), and other wireless mic systems (Shure systems – mostly ULX systems). For the most part these all work well, and they play nice together.
So one Sunday morning about a month ago I had this QLX-D system from Shure in the closet behind our production booth, and I was planning to instal it the following week to test it out for this review. About half-way through the first worship set in our first service, my wireless mic started cutting in and out. I'm not sure what caused it – I'm actually told there is a guy with a Hamm radio that lives near our church, and when he uses it, it causes all sorts of havoc with nearby wireless systems. Anyway – I finished out the set, we transitioned into the message, and I needed to change my mic, fast.
So I'm in the tech closet, and really the only backup I had was this Shure QLX-D Beta 87a system. The mic that I was using previously was actually another wireless beta 87a, so if I could swap it with this one, we wouldn't miss a beat. During the message I managed to remove the old system, instal the new one, and set up the wireless frequencies with about one or two button presses. I whispered a few things into it – saw the levels jump on the board (with the channel muted, of course), and when the message was done, I used it for the response song. Worked perfectly. That should be a testament to how easy this thing is to set up.
I've since used this wireless unit for about a month every week, which includes a mid-week rehearsal, three Sunday morning services plus a full run-through before services, and random during-the-week usage.
QLXD4 Receiver

The QLXD4 Receiver is a half-rack digital wireless receiver that works will all the components of the new QLX system. This includes a variety of wireless microphones and instrument transmitters. It looks, feels, and functions like a premium piece of gear. The exterior is made of solid metal, and it is very sleek in appearance and very simple in functionality.
I won't go into all the technical specs of this unit (see Shure's website for that info). I will just say that it functions perfectly out of the box and set-up is simple.
Beta 87a (QLXD2/Beta87a)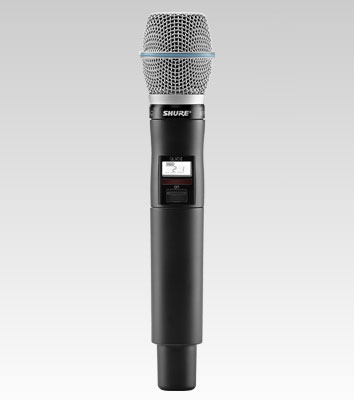 When it comes to live vocal microphones, the Beta 87a is one of the best out there. It's a condenser mic, which simply means it's more sensitive and more articulate than a dynamic mic like an SM58. This can mean problems with feedback, but the Beta 87a handles feedback extremely well – we've never had a problem with it in the years we've used the Beta 87a – and I never had a problem with that for this particular unit either. It sounds very warm, and yet very detailed. In my opinion, it's very close to having studio quality vocals (think large diaphragm condenser) in a live setting. I have a baritone-esque voiece (listen to any of my videos here on the site as well as the review video), and it represents my voice well, but really – it sounds great with just about anybody singing into it.
The QLXD2/Beta 87a (the wireless transmitter in this system) is very well made. Most all the parts are made of metal, which is not the case with previous Beta 87a wireless system transmitters. This mic runs on a pair of AA batteries, and Shure makes a rechargeable battery solution for it as well – it's interchangeable. I've noticed that this mic lasts longer on a pair of AA's than our other Beta 87a's (ULX) do on the 9V battery that powers them.
Setup
Setting this system up is extremely easy. See my story above for a real-world example (under pressure). Like most Shure wireless systems, you'll line up two numbers (1:1) for example. The QLX system will then scan a range of frequencies and find an open frequency. No making sure both the transmitter and the receiver read '566.10'. I'm looking at you, Sennheiser :).
Shure's site has a lot more info on how these systems can be set up as well as used with multiple transmitters and receivers. I always say that it's good to understand the tech behind all your gear, but for this system, you don't have to.
How does it sound?
I tested the Beta 87a wireless system against a Shure beta 58a, which is a very highly regarded and highly used live vocal mic. The beta 58a is a dynamic mic, while the beta 87a is a condenser. In the samples below, I sing a verse of Amazing Grace, and I applied a bit of EQ, compression, and reverb to suit my voice. I wanted to make this much like a real-world usage test, so I did what most FOH audio engineers should do as far as effects.
In my opinion, the Beta 87a is much more articulate. It retains the warmth of the dynamic beta 58a, but seems to retain much more detail, especially in the higher end of the frequency. I could go on and on, but really listening with your own ears is the best test:
The Beta 58a is the 1st file, beta 87a is the 2nd one.
Conclusion
The Shure QLX-D Beta 87a wireless system sounds awesome, and it's very easy to set up. Add to that the fact that it's affordable, and Shure has an extremely tough to beat product on its hands.
When given the choice which wireless systems to buy in the past, we chose Beta 87a wireless systems. In the future, I'd buy more.