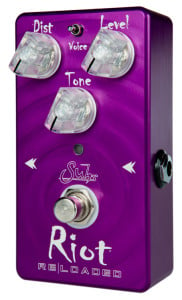 [button link="http://www.amazon.com/Suhr-Riot-Reloaded-Distortion-pedal/dp/B00FGKFD8S" window="yes"]Buy a Riot Reloaded here[/button]
When you think of a pedal like the Suhr Riot Reloaded, modern worship music might not be the first thing that comes to mind. This pedal was made to do one thing: take your nice clean amp and turn it into a raging stack of rock and roll. We think that the Riot (and similar pedals) can actually have a very useful place in modern worship music. Check out the video above for our thoughts and sound samples from the Riot Reloaded.
Controls and layout
The Riot Reloaded gives you three controls:
There is also a 3-way toggle switch that changes the voicing of the pedal. According to Suhr's manual, the voicing switch basically does this:
Left: 'Dynamic, natural, and organic' voicing
Middle: 'Solid midrange and a fuller bottom end' which gives you more of a high gain sound
Right: 'Scooped mids' tone
We found these descriptions accurate. Suhr also says (and we found in our testing) that these voicing become more apparent with higher gain.
How does it sound
If you want a modern rock sound, the Riot Reloaded delivers. The distortion knob gets big and heavy fast. It's a very smooth, tight, and focussed sound, which is nice. The bass never really gets out of control, and it's a great in-your-face kid of tone that sits well in a mix. We found a lot of great tones in the Riot Reloaded, but some of our favorites were:
Distortion turned way down: This sound works very well for parts that you might think to use an overdrive like a Tube Screamer. It's really dynamic and responds very well to your playing style. If you are not a very dynamic player, this could actually work against you, but if you have a nice touch, it's a lot of fun to play. We found that turning the distortion down created a more dark tone and as you turned the distortion up, the tone brightens. For this reason, we like the tone cranked for this sound, and we even turned up the tone on our amp a bit as well.
Everything about noon: Just a great classic rock type sound. Big and fat – lots of sustain and saturation. Many people compare the sound of the Riot Reloaded to a cranked Marshall amp. We agree. Suhr actually voiced this pedal to sound like the 3rd channel of his CAE OD100 amplifier. This sound is notoriously famous in rock music for a reason – it sounds awesome. If you're a rhythm player and you want just a huge sound, turn it on and turn it up.
Distortion turned about 3/4 the way up: Big wall of sound modern distortion tone. Forget 1st, 2nd, and 3rd stage gain/pedal stacking. Just use this – it will sound bigger, fatter, and more defined. We think this tone is very useful in worship music – it just makes everything sound huge.
We also liked the toggle switch in the left (natural) position for most sounds, but the other positions are certainly useful for different applications.
Conclusions
Distortion isn't an effect you see on many worship players' boards, but we really think it should be. And the Riot Reloaded is one of the best distortions we've heard. You can get a lot of different and very useful sounds from it – anything from slightly gritty overdriven tones to big, huge wall of sound distortion tones. We love how it never really gets too out of control – it always seems to be focussed and tight.
We mentioned it earlier, but gain staging seems to be a pretty popular thing these days. Using two or three overdrive pedals at the same time to push one another and get bigger and bigger sounds can be a very cool trick, but it has some distinct disadvantages.
You have to do a lot of tap dancing. What if you want to go from clean to your biggest sound? You have to turn on two or three pedals.
It can get pretty muddy sounding. Often when you stack a bunch of overdrives, you really muddy up the midrange. It's bigger, louder, and hairier, but it's also less defined and can sound pretty sloppy. With the Riot Reloaded, you get that big sound but with much more clarity and definition (and typically way more sustain).
Overall we love it, and we really hope to see it on more worship players' boards. Let's bring Rock and Roll back!