View all my guitar lessons here. Want private lessons over Skype? Click here to learn more.
In the Part 1 of this lesson, we learned how to play the chords E, A, B, and C#m. In this lesson, we'll learn different voicings of E, A, and B.
The two basic shapes
The E shape
To play these different voicings, we'll move two basic shapes around the fretboard. The first shape is the basic E shape.
This is the regular E major chord, played on the 2nd and 1st frets. We can use this shape to play both an A and a B chord. To play an A, slide the shape up to the 7th and 6th frets: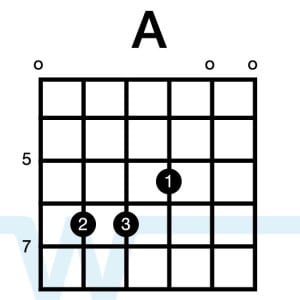 To play a B, slide it up two more frets to the 9th and 8th frets: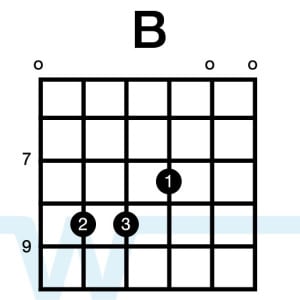 The B Shape
The next shape we'll use is the B shape. This is the open B shape on the 4th and 2nd frets: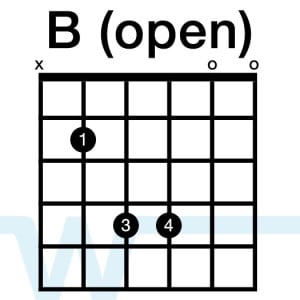 To play a C#m, slide it up to the 6th and 4th frets: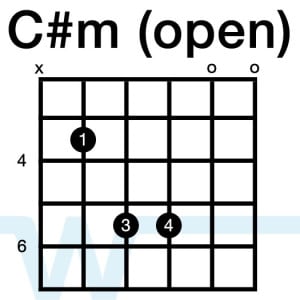 To play an E, slide it up to the 9th and 7th frets: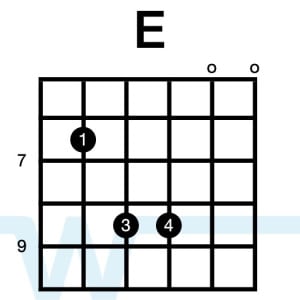 Recap
In conclusion, you can use the E shape to play the chords E, A, and B:
And you can use the open B shape to play B, C#m, and E:
Songs using these chords
Hosanna by Brooke Fraser (Hillsong) is a great example of using these alternate voicings.