View the all the basic guitar lessons here
This is the 2nd lesson in my basics of guitar series. In the first lesson, we learned how to hold the guitar, how to read chord diagrams, and how to play our first chord, the D chord.
In this lesson, you'll learn the four most used chords in the key of G: the G chord, the C chord, the D chord, and the Em chord.
How to play the chords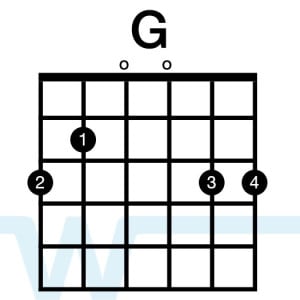 (click chord diagrams to view bigger versions)
To play the G, your 2nd finger goes on the low E string, 3rd fret. First finger on the A string, 2nd fret. Third and fourth fingers go on the B and high E strings, 3rd fret.
Remember to try and place your fingers as close to the fret as possible (but not on top of the fret). This will allow the string to ring out more fully.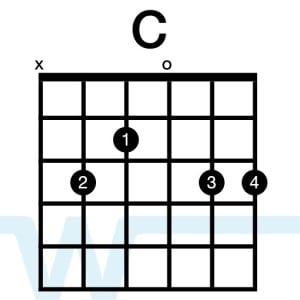 For the C chord, start with your fingers in a position to play the G, and then just move your second and first fingers down one string each. Keep your 3rd and 4th fingers right where they were.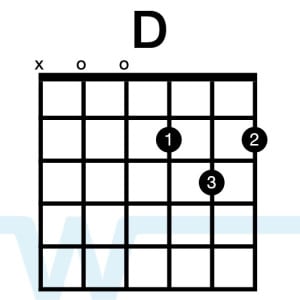 This is the chord we learned in the first lesson. Note that your 3rd finger is in the same position on the B string as with the G and the C chord.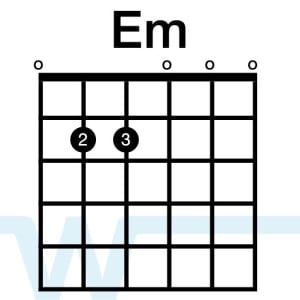 I like to play Em with my 2nd and 3rd fingers, although you can play it with your first and second, or really any combinations of two fingers.
Alternative ways to play the chords
When playing in the key of G, I'll often play all the chords while keeping my 3rd and 4th fingers planted on the B and E strings (3rd fret). The G and C look the same, but this is what the D and Em look like when you do this:
These are actually suspended versions of the chords, but they usually sound just fine in place of the other variations that you can play. When you play all the chords keeping your 3 and 4 fingers planted, you can move much faster between chords when you change.
Some other notes from this lesson:
The less you move your fingers when you change chords, the faster and more efficient (and better) you'll be. If you don't need to move a finger between chords (like your 3rd finger on the G, C, and D), then just keep it down. This might be difficult at first, but it will get more natural as you practice.
Remember to keep your fingers as close to the fret as possible without touching it.
To practice, strum the chord, then pick each string, then strum again. If some of the strings buzz, that's ok. Just keep practicing and you'll get better over time.
Songs to play using these 4 chords
There are literally hundreds of songs you can play using these 4 chords. Here are a few worship songs that I've given video tutorials on: