View all my basic guitar lessons here
Just starting out on Guitar? You've come to the right place. In this video lesson, you'll learn:
How to hold a guitar
The names of the strings
How your fingers are numbered (for chord diagrams)
How to read a chord diagram
How to play a D chord
How to hold a guitar
If you're sitting, make sure to sit up straight. You want the guitar to sit straight up and down – you don't want the guitar to tilt back toward you (lots of beginners will do this, probably to be able to see the fretboard better). Make sure you are comfortable. Your arm closest to the fret-board should be bent at about 90 degrees, and your elbow should not rest on your leg.
Names of the strings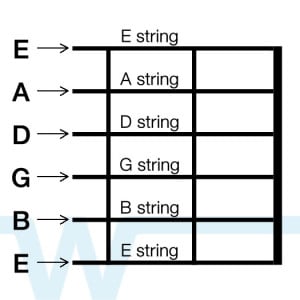 (click the image for a larger view)
How your fingers are numbered
We number our fingers so it's easy to communicate which finger to put on which string
Index finger: 1
Middle finger: 2
Ring finger: 3
Pinky finger: 4
Thumb: not numbered
How to read a chord diagram: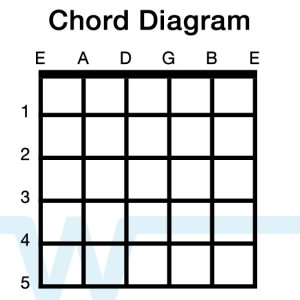 (click image to for a bigger view)
The vertical lines are the strings. The far left string is the low E. The horizontal lines are the frets. The thick line is the nut of the guitar, and the first fret is the next horizontal line down. When you read a chord diagram, you'll see dots with a number in them. The dot is where you put your finger, and the number is what finger you'll use. Speaking of…
Your first chord: D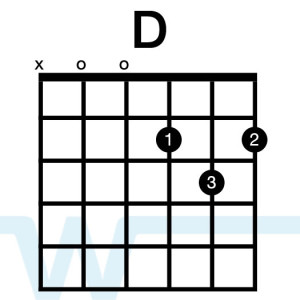 To play your first chord, the D major chord, place your index (1) finger on the 2nd fret G string, your ring (3) finger on the 3rd fret of the B string, and middle (2 finger) on the 2nd fret of the high E string.
You don't want to play the low E string, so you can either make sure and not strum that string, or you can wrap your thumb around a bit and touch the low E with your thumb (just touch it – don't press it against the fret). This will mute the string and you won't hear it when you strum the chord.
A few things to keep in mind:
You want your fingers to come straight down on top of the strings – make sure that your finger touches only the string it is supposed to be on without touching other strings.
Strum the chord, and then pluck each string individually. Eventually you want ever string to ring out, but at first there will be a good bit of buzzing or dead strings. No worries – this will improve over time with practice.
So there you go – your first chord.