[fourcol_three]

[/fourcol_three]
[fourcol_one_last]
Artist: Hillsong United
Album: Zion
Album Key: C (male, high), 63bpm, 6/8 time
Listen in iTunes
The Worship Tutorials Studios version follows the arrangement of the Hillsong: Zion version
Chord Charts
$1.99Add to cart
[divider]
Multitrack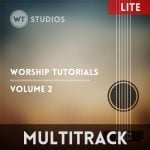 [/fourcol_one_last]
[fourcol_three]
[tabs style="boxed"]
[tab title="Tutorial"]
On the album, the song is in C, which is high for most male vocalists – especially in the bridge. Feel free to take this song down to B, A, or even G if you'd like.
Chords used in this song
If these chords are difficult for you, no problem! Check out our Chords in the key of C lesson.
Strumming Patterns
This song is in 6/8 time, which is a bit uncommon, but certainly not unusual. It has a different feel, so if 6/8 time is new to you, check out our guitar lesson over 6/8 time.
The first part of the song is just down strums, but after that, use this pattern:
[box]
1 2 3 4 5 6       
d  udud  udu,...

[/box]
[/tab]
[tab title="Chord Charts"]
Scandal of Grace – Chart Kit – Hillsong arrangement
$1.99
Arrangement: Hillsong United – Zion
Keys included: A, B, C, E, F, and G
Listen in iTunes
On the album, the song is in C, which is can be high for most men. For a male lead, use keys G, A, B, or C. For a female lead, use keys E, F, or G.
Description
Chord Chart kits include both Nashville charts and lyric charts in various keys. Your download will be in the form of a .zip file. Extract the file and you will find two folders, 'Lyric Charts and Nashville Charts'.
Only logged in customers who have purchased this product may leave a review.
[/tab]
[tab title="Multitrack"]
[/tab]
[/tabs]
Latest Songs
[/fourcol_three] [fourcol_one_last][sidebar name="Primary"][/fourcol_one_last]