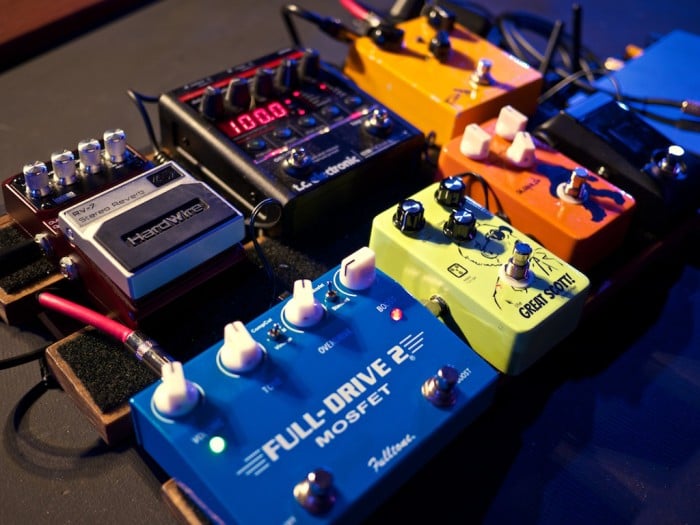 Most guitar players are crazy when it comes to gear, and I'm no different. I'm constantly buying/selling/trading/longing/hoping/etc. My acoustic setup has remained unchanged for a while now, and I've finally settled into an electric guitar rig that I like.
I'm 100% a rhythm player, so I don't have a lot of mod effects that would give me really weird sounds. When I play, I focus much, much more on singing and leading than fiddling with pedals. I usually just have two or maybe three basic tones that I stick with for a whole set, and I really don't like to stomp on anything during a song. Anything that takes my focus away from leading is bad, in my opinion. I do a lot of drive control with the volume knob on my guitar as well. Here we go.

Korg Pitchblack Tuner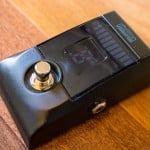 The first thing my signal hits is a tuner. A tuner is a tuner, really, but I really like the Pitchblack – mostly because it's really easy to see. As you can tell, the display is pretty huge, and the little bars across the top light up when you tune. When it's green, you're in tune.
I see a lot of people using the Polytune, and it looks pretty cool. I might have to check one out.
One thing that's missing on the Pitchblack is a bypass mode. I've got a Boss TU2, and you can run it in bypass so you can leave it on and let the signal pass through the pedal. With the Pitchblack, you turn it on and it mutes your signal.
See more photos here on my Flickr page
Sasquash Compressor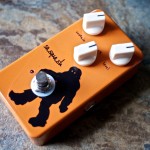 Next up is the Sasquash Compressor. You've probably never heard of the Sasquash Compressor, because it doesn't really exist.
This thing is actually a Joyo Dynamic Compressor, which is a really cheap clone of an MXR Dyna Comp. It sounds good enough. It did, however, look stupid. Hit the link above and you'll see what I mean. I always think about a giant scorpion when I think of compression, so it totally makes sense that Joyo would use it on the pedal.
I painted the box orange, made the waterslide decal, and put on cream colored knobs. Much better.
GREAT SCOTT! Overdrive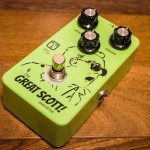 Never heard of the GREAT SCOTT! Overdrive, either? It has the same story as the Sasquash. It started out as a Joyo Vintage Overdrive, which is a cheap clone of an old-school Ibanez Tube Screamer. If you click through the link above, you'll see that whoever designs these pedals at Joyo needs to lay off the glow-in-the-dark yellow. I made it my own with some green paint, Back to the Future graphics, and speed knobs.
This one actually sounds really good, but I don't use it all that often. I'm starting to use it more and more, and it's become my go-to for low to medium gain tones.
Fulltone Fulldrive 2 Mosfet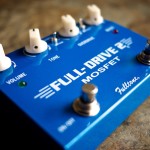 The Fulldrive is a GREAT overdrive pedal, and it's one of my main drive pedals (either this one or the Mudhoney). It's a Tube Screamer clone, but it sounds way better than any tube screamer I've ever heard before.
Since it sits right next to the GREAT SCOTT, which is also a tube screamer clone, it's easy to tell what sets the Fulldrive apart. It's got way more clarity and it seems to be a lot livelier, for lack of a better word. When you set them up similarly, the fulldrive just has more energy and sparkle.
I run it in the MOSFET and Vintage modes. The boost is a nice touch – I'll hit it for big bridge or solo sections. GREAT pedal. If you need an overdrive, check this one out.
T-Rex Mudhoney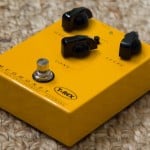 I'm not going to lie to you, I picked this up years ago pretty much based on the fact that John Mayer uses it. I listened to some demo's on YouTube and I was sold. I actually sold the pedal in the photo over there and recently bought another one because I missed it so much (which is why the Mudhoney in the pedal rig photo above looks a bit beat up).
I read somewhere that the Mudhoney is based on a Rat, which explains why it sounds way different than my other two drives, which are based on Tube Screamers. Actually, Mudhoney is a great name, but that's exactly how it sounds. Very smooth, rich, creamy, syrupy, etc. It's not nearly as hyped sounding as my other drives, but it's a lot thicker sounding. It also has a boost (that little black button between the knobs) that makes it sound like a fuzz. I play this one about as much as the Fulldrive. I don't really have certain songs that I use certain pedals for – just whatever I'm feeling that day.
T.C. Electronics Nova Delay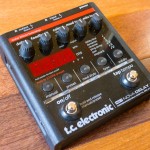 I could say a lot about the Nova Delay because it does a ton of stuff, but here are the things I really like about it.
It has a tap tempo button. Essential on a delay pedal, in my opinion.
It has a nice big display that shows you BPM if you like. We play all our songs to click tracks, so I can dial in exactly what tempo I want.
It has a 'subdivision mode', which means I can tell it I want dotted eighth delay while I have it set to 90 bpm and it does it. It will also do dotted eighth and quarter note delay on the same setting – kind of like two delays in one. In case you didn't know, this is the U2 setting, which also doubles as the "Modern Worship Guitar" setting.
One thing I don't like is there is no footswitch to change between the saved presets, but you can have it modified to do that if you like.
Digitech RV-7 Reverb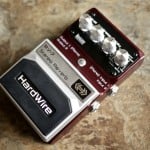 This is a very solid reverb pedal with a ton of options. I typically stick with the Hall setting, but the Spring setting is great if that's the sound you're looking for. It has the Lexicon reverb modeling in it, which is pretty good stuff.
The Modulate setting is also pretty nice. It's a bit different than the Boss RV-5 mod setting, but it comes close. This one has more of a chorus effect, and it's not nearly as over the top, but if you turn it all the way up, it definitely gives you some cool ethereal kind of sounds.
I also really like the big blue light.
Amp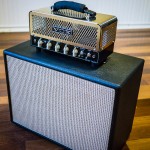 So what do I run all this stuff into? Currently it's a Vox Night Train, and I'm quite happy with it. I've been all over the map with this stuff. Modeling amps (Vox Valvetronix), modeling footpedals (Line 6 POD XT Live and HD500), and a few different amps (Peavey Classic 30, Vox AC15).
I settled on the AC15 for quite a while, but eventually it was just too loud. We really try to keep our stage volume as low as possible. The Night Train sounds a lot like the AC15, but you can run it in 7 watt mode, which is way quieter.
I run the head into an Egnater cab, but I've swapped the stock speaker out for an Eminence Red Fang speaker, which is a clone of the Celestion Blue.
See more photos of the Night Train here
How about guitars?
I switch back and forth between two main guitars…
Gretsch G5120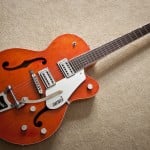 How awesome is a big orange hollow body guitar? Pretty awesome. I love this thing, and it works quite well for modern worship stuff (think Hillsong). It is prone to feedback a bit, but with our low stage volumes, its rarely an issue.
There lots of things I love about this guitar (the way it sounds, looks, feels, etc), and a few I don't. I'd love to upgrade the following things: Pickups – the stock pickups lack a lot of clarity and bite. Bridge, nut, and tuners: I fight tuning issues with this guitar. Wiring: sometimes it's a bit noisy, and every once in a while it cuts out when switching to the bridge.
Other than those issues, it's a keeper. And it's perfectly playable in it's stock condition – these are just wish-list kinds of things.
See more photos of the Gretsch here
Blue Telecaster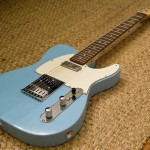 This guitar is near and dear to my heart – I built it with my Grandfather who is a retired carpenter. There's really nothing I would change about this guitar. Here are some specs:
Body: Alder
Neck: Warmoth
Pickups: Seymour Duncan Vintage Mini HB (neck), Seymour Duncan 'Lil 59 (bridge)
Electronics: 4 way switch (4th position is both pickups in series, which acts like a boost)
This guitar sounds like a mix between Telecaster and Les Paul with the dual humbuckers. We didn't know what we were doing when we built this thing, but the stars must have aligned, because I haven't played many other guitars in my life that top this one.
See more photos of the blue telecaster
Finally, here is a photo of me just this past weekend playing the Gretsch through all this stuff: