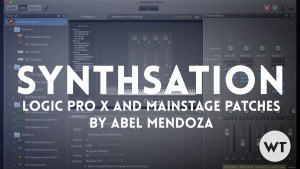 Apple's Logic Pro X and Mainstage applications ship with some very powerful and very good sounding virtual instruments, but in my experience you've got to tweak them to get the to sound their best.
Synthsation
Abel Mendoza's line of patches called Synthsation represent 100's of perfect crafted Logic and Mainstage patches for modern worship applications. In the video above, I walk through 10 or so of my favorite patches from his first four volumes. Each volume has 50 patches. You get Pads, Synths (bass and lead), Electric Pianos, Organs, Strings, Rhythmic sounds (arpeggiated), Atmospheric sounds, and more.
If you are a worship leader, producer, or keys player, you literally get anything and everything you'd ever need to re-create keys and pad/synth sounds from your favorite worship bands.
Check out Abel's site and YouTube channel for more. He demos these patches way better than I do so take a moment and watch his videos and demos if you are interested.
[button link="http://www.abelmendozaproductions.com/" window="yes"]Visit Abel Mendoza Productions[/button]
[button link="https://www.youtube.com/user/ALMStudios85″ window="yes"]Visit Abel's YouTube Channel[/button]