[button link="http://agapeamps.com/" size="large" window="yes"]Buy an Agape amp[/button]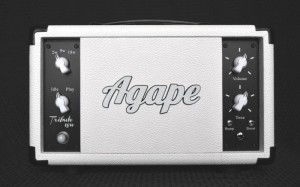 Agape Amps is located in Florida, and they are building some extremely high-quality hand-built amps. Every single component is hand selected, and they simply do not disappoint.
For review is the Tribute 18 watt head, finished in a beautiful white. The first thing you'll notice is the styling. It really does not look like any other amp I've seen before. I love the look – it seems to have sort of a modern and retro thing going on at the same time, and in my opinion it's very classy.
Features (from Agape's website)
Power: 18 Watts
Channels: 1
Controls: Volume, Tone, Bump, Boost, Impedance, Wattage 2/9/18, Idle/Play, Mains Power
Power Section: 2 x matched JJEL84s
Preamp Section: 1 x ECC81 – 1 x ECC83MG
Speaker Output: One switchable 8/16 ohm
Mallory 150 caps, Carling switches, Neutrik jacks, Teal Indicator, Cathode bias, Class A/B, Dovetailed 13 ply baltic birch, aluminum chassis, carbon film resistors, DC buffer input (scrubs pedalboard DC capacitance from signal without affecting original guitar signal), hand wired and hand built in Florida
Sound
If we were to compare the sound to some well known amps, I think we'd say it's Vox-like, but that's not the whole story. It definitely has that chime and grit, but it also has a richer bottom end. Despite the simple tone control, it seems to do exactly what you want it to – turn it to the left and it warms up without sounding dull. Turn it to the right and it cuts nicely, but it never gets thin.
The amp is extremely responsive. If you set it on the edge of break-up, you can dig in and get dirty or back off and stay clean. It really reacts to your playing style.
We also LOVED how well it takes pedals. Seriously good. These are made with the worship player in mind, and worship players these days use a ton of pedals.
Versatility
While being simple to use, the amp is very versatile. The 'Boost' control allows you to get into tube breakup sooner in the volume control. The 'Bump' control changes some of the EQ characteristics of the amp – we thought of it almost like a 'voicing' control. Along with the tone, volume, and attenuation controls, this amp can get you a lot of sounds in a lot of environments.
If you're looking for an amp to nail modern worship type tones, look no further
Check out 5:35 into the video. Nick plays a lead line from a Hillsong song. This amp totally nails that tone. Enough said 🙂
Giving back
Agape is a company that wants to make a difference in the world, and not just by giving you great tone. For every amp they sell, they will donate 10% to Blood:Water Mission. Read more about it here.
Conclusion
The Agape Tribute is truly a boutique amplifier. It's in the same caliber as amps made by Matchless, Bogner, Morgan, Jackson Ampworks, etc. Completely hand made and voiced specifically for modern worship musicians. Check one out today!