[button link="http://www.musiciansfriend.com/accessories/g7th-performance-2-guitar-capo" size="large" window="yes"]Buy a G7th Performance 2 Capo[/button] [button link="http://www.g7th.com/capos/performance-2″ size="large" window="yes"]Visit G7th's website[/button]
A while back I ran a Capos Series here at (see those videos on the Guitar Lesson Index page), and at the end of the series, I reviewed 3 capos: the G7th Performance capo, a Kyser capo, and a Planet Waves capo. My favorite of the bunch was the G7th capo, and now I've got the G7th Performance 2 capo, which is an updated version of the capo in the first review.
Design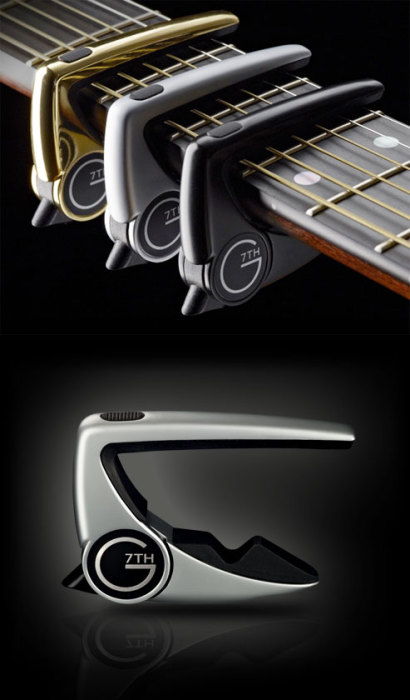 One of the things I love about these G7th capos is how sleek and minimalist they are. The original Performance capo was small and a bit chunky, but definitely more minimal than other capos on the market. The Version 2 capo is even smaller and lighter. It really is a beautiful piece of hardware – it feels premium and very well made. The thing I like most about it is how it really gets out of the way when it's on your guitar. It blends in to the point where you sort of forget it's even there.
I also noted in my previous review that the Planet Waves capo I've used in the past reacted with the finish on my Martin D-35. I spoke with Nick Campling (the inventor of the G7th capo), and he said they haven engineered the materials used on their capos so that they will not ever react with guitar finishes. I can attest to this – I've never had a problem with either of my G7th capos.
Usability
The version 1 Performance Capo was pretty easy to use. You move it easily with one hand, but as I demonstrate in the video, you had you sort of move the position of your hand to do it. With the Peformance 2 capo, the mechanism for opening the capo has changed so that you simply squeeze it. This makes for much faster operation with one hand.
In the video above, I demonstrate how you can change position with the G7th just as easily as with a Kyser style capo.
I also love how the tension of the capo is set simply by how hard you squeeze it on to your guitar. It only takes a short time to really get good at applying the perfect amount of tension on the strings (which keeps your guitar in tune better while using a capo).
Conclusion
The G7th Performance 2 Capo is really the best capo I've ever used. There's not much more to say about it than that. The design and the usability is really top notch.
I also have really enjoyed interacting with Nick Campling – he is a great guy and very passionate about creating a top quality product. Nick and his son (who also works for G7th) are both members of a local church body in England, and they are involved in praise and worship teams there as well. I cannot recommend G7th and their products enough. Definitely check one out!