Picks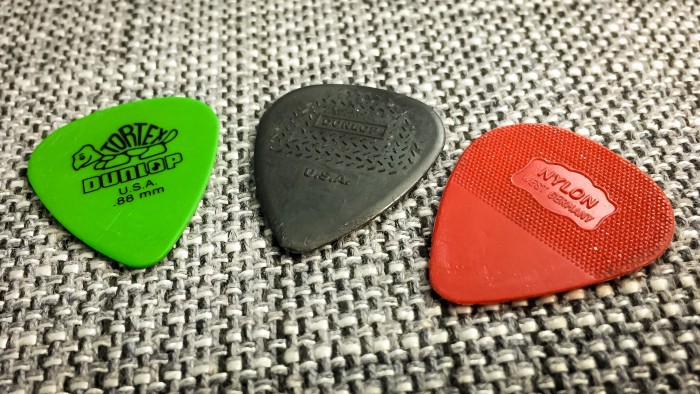 I've been on a journey with picks over the years. I used to use really thin picks (0.5mm or so), and as I've progressed as a player, I tend to favor heavier picks. I feel like you can get more dynamics and 'feel' out of a heavier pick, but for beginners who haven't learned the art of nuance, they can make things sound really harsh and muddy, especially on electric guitar.
In the image above, I've highlighted three of the picks I like to use often.
Herdim Picks (the red one):
The red pick is a Herdim picks pick, and it's by far my favorite. Herdim picks are famous because The Edge of U2 uses (or at least has used) them. If you turn the pick around and play with the textured edge, you can grab the string and get a different sounding attack. Bradford Mitchell, who is a regular contributor here at Worship Tutorials, describes this sound as ripping velcro, and it's pretty accurate. If you just ahead to about 5:00 into the video you can hear me demonstrate this effect. I use these for electric guitar.
Dunlop makes several nylon picks with a textured grip. This max grip pick is just one that I had handy, but they all kind of give you the same effect. You can get a similar string grab sound as the Herdim, but for some reason the Herdim picks just do it better. The Dunlops are kind of my back-up as they are a lot easier to find locally, and they do come in more thickness ratings. I like anything from 0.88 to 1.14mm.
The Tortex line from Dunlop do not have a textured edge, and I use them on acoustic. I find playing with a textured edge on acoustic isn't as nice as on electric. The tortex picks are a sort of matte/satin finish, which makes them feel a bit sticky, so they stay put in your fingers.
Strings
My favorite strings have always been Elixir, especially on acoustic. They are coated strings, so they resist rust and corrosion. I find they last significantly longer than non-coated strings, and personally I don't hear a tone difference with them compared to non-coated strings.
For acoustic, I prefer the Polyweb 80/20 strings in light (12s). For electric, I use 10's. I also like Elixir strings on electric, but because I have so many more electric guitars than acoustic, I will also tend to use the D'Addario 3-packs (also 10's) just because they are so much cheaper. Three sets of strings for $10 is a pretty good deal.