Visit MJT Aged Finishes // See more photos of my MJT here
I recently ordered a completely custom made guitar from MJT Aged Finishes. MJT is a company started by Mark Jenny. Mark makes a guitar that looks like it came straight out of the 50's (or 60's, or 70's, or even brand new). Most people would refer to this concept as creating a 'relic', but Mark and his team deliver a guitar that looks, feels, and plays like it's actually 50-60 years old. This is not your average relic'd guitar. MJT finishes the guitar using the same materials and processes as they did in the 50's, and then works some kind of strange magic to age it to whatever level of abuse you want.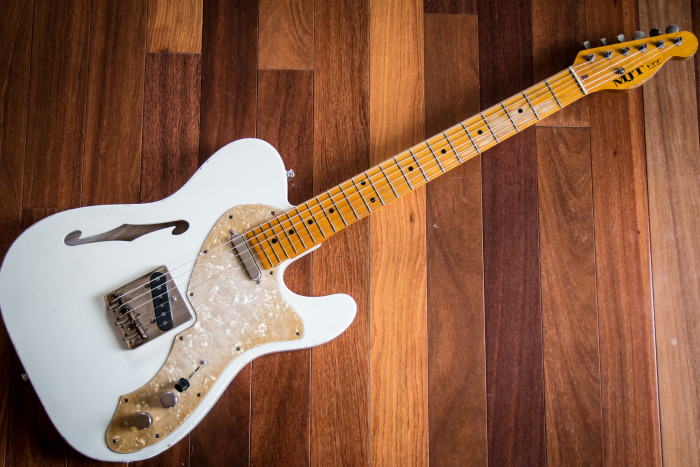 You can get just about anything you want from MJT. You can buy a body, a neck, or a combination as a kit. You can even send them your body and neck for them to do their thing on. Recently, though, MJT has started offering their 'complete' guitar. You pick from their body styles (think common bolt on neck styles), material types (woods, neck carves, hardware, etc), and finish. They will age it (or not) to your exact specifications. They work with Porter pickups, so you get your choice of Porter pickups, and they include an aged case (to match the aging on the guitar) and a certificate of authenticity.
What is your dream guitar?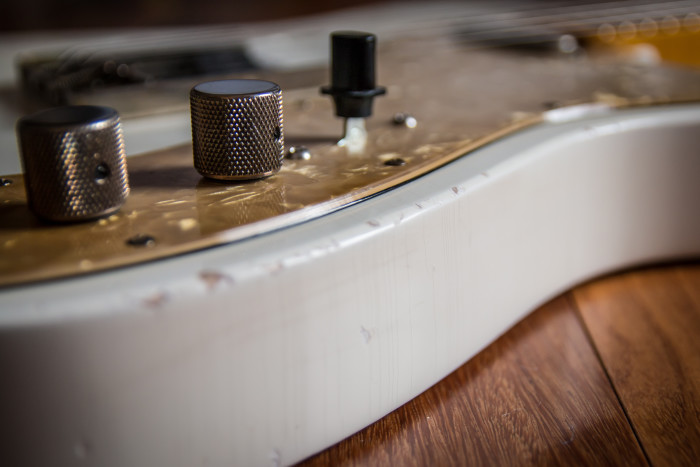 I ordered one of their VTL models, which is the Thinline T style guitar. I spent literally weeks trying to figure out exactly what I wanted. How much aging? What color? What kind of hardware? What pickups? What neck carve? There are just so many things you can customize. You really are designing your dream guitar. Here are the spec's I settled on:
Body: Thinline body style – ash body, medium level of aging – Olympic White finish, pearloid pick guard
Neck: Maple neck/fingerboard – medium level of aging – neck is sourced from Musikraft, and it is extremely nice – medium C carve, 9.5 in radius
Porter Custom Vintage pickups (Porter pickups)
Brass saddles
Vintage style tuners
There were a lot more spec's that I chose, but those are the basics.
The Look/Feel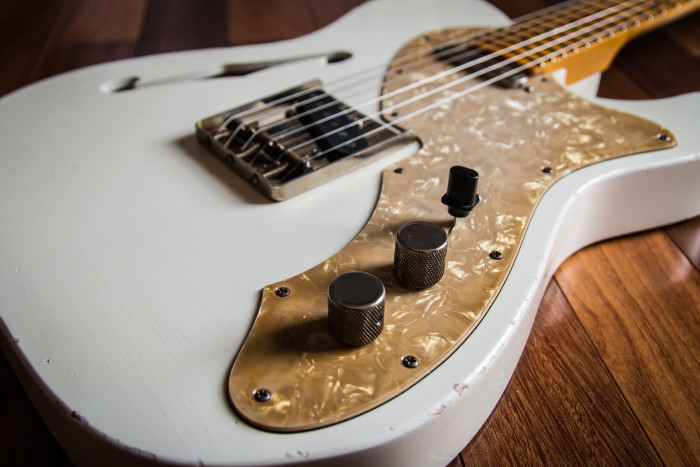 Several months later the finished product arrived at my door. The first thing I saw was the case. It even smelled old. Perfectly beat up and rusted, yet all the latches and hinges worked perfectly and were super smooth. It's as if MJT goes to great care to make the thing look and feel old, but function as though it were brand new.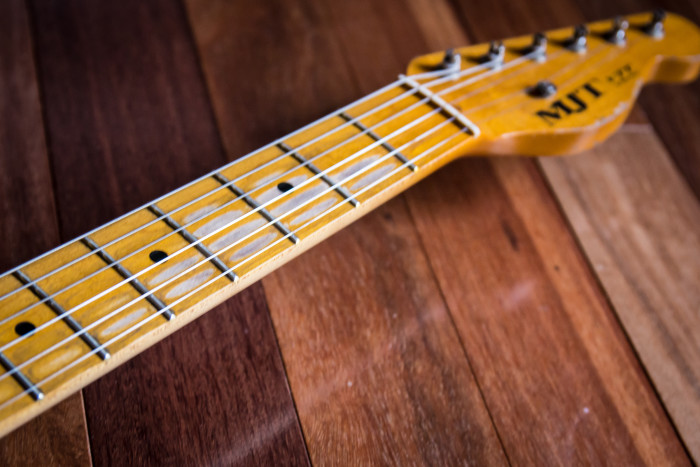 I pulled the guitar out and was struck by just how beautiful it was. The level of detail in the finish is incredible. Every nick, scratch and finish mark looks perfectly authentic. Nothing looks out of place or forced. I've seen some bad relic jobs – this is not one of them. The neck is perfectly worn in and plays like butter. There is linear finish checking (as I requested) throughout the entire body. You don't really notice it unless you look closely in the right lighting, but it's there – just like it would be if the guitar were made in the 60's and subjected to hot and cold weather changes. The aging looks right, but everything works as though it were a brand new very high quality guitar. The tuning machines are smooth. The frets are perfectly polished and rolled, and of course there is zero fret wear. Again – the aging looks dead on, but the playability and functionality is perfect.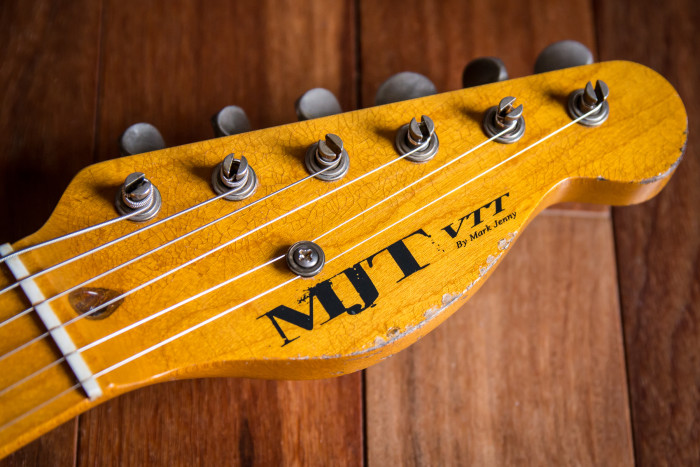 The guitar is extremely light weight and comfortable. The worn finish on the neck feels perfect, and even the worn feel of the body is nice. Definitely doesn't feel like it's dipped in plastic like most off the shelf guitars. It's also very resonant when you strum.
The Sound
I'll admit that I'd never heard of Porter pickups before, but this guy knows how to wind a pickup. The guitar has more life and sparkle than any other T style guitar I've played. I have another guitar with some Fender Custom Shop pickups in it (a Nocaster in the bridge and a Twisted Tele in the neck). That guitar sounds lifeless and dull in comparison. It was actually shocking when playing them back to back. Plenty of bite, twang and snap from the bridge, and very nice fat (even bluesy and jazzy) tone from the neck. It's exactly what a T style guitar should sound like.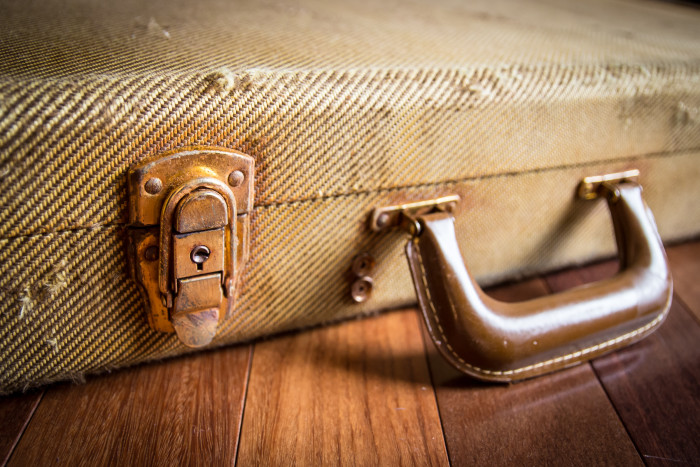 Obviously the sound you get with a guitar has a lot to do with your amp, effects, and playing style, but I can say without a doubt that I'd buy Porter pickups again. And again. And again.
I'd also like to add that working with MJT was one of the best experiences I've ever had dealing with a company. Most of my communication was with Matt Jenny (this is a family business), and he was very polite and informative the whole way through. The two of us shared multiple emails along the way, and Matt always made sure that the guitar was being created exactly like I wanted. They even sent several batches of photos along the way, which was pretty exciting to see.
The MJT complete guitar is one of, if not the nicest electric guitar I've ever played. I cannot recommend them enough. Think Custom Shop level guitar for about 1/2 to 1/4 the price. Definitely check them out!